The 340B Drug Pricing Program (340B Program) is led by the federal government's Health Resources and Services Administration (HRSA), an agency with the Department of Health and Human Services (HHS). In this blog, we'll go over important 340b program requirements and explore the most common 340b FAQs.
Related: What Does the Vaccines for Children Program (VFC) Offer?
Since 1992, this program has helped eligible providers extend federal resources, increase their services, and reach more patients across the nation. As a result, safety-net health care providers can save money on drug purchases, allowing them to provide primary care to low-income patients and keep their practices open. 
No matter whether you're looking to stay up-to-date with the 340B Program or participate for the first time, this post will help you understand 340B Program requirements and what you can do to stay 340B compliant more easily.
What Is the 340B Program?
Under Section 340B of the Public Service Act, pharmaceutical manufacturers must enter into a pharmaceutical pricing agreement (PPA) with the HHS Secretary to have their drugs covered by Medicaid and Medicare Part B. In exchange, manufacturers must agree to offer front-end discounts on covered outpatient drugs to providers that serve the most vulnerable patients in the US.
As a participant, you can enjoy considerable discounts on certain outpatient purchases. In 2015, the program allowed participants to get 20-50% off their drug costs from retailers and wholesalers. To access these savings, your practice needs to ensure 340B compliance and continually adhere to strict 340B Program requirements.
Which Entities Meet 340B Eligibility?
To become a participant, your practice must belong to one of the following covered entities and eligible organizations:
Hospitals:
Children's Hospitals

Critical Access Hospitals

Disproportionate Share Hospitals (DSHs)

Free Standing Cancer Hospitals

Rural Referral Centers (RHC)

Sole Community Hospitals
Health Centers:
Federally Qualified Health Centers (FQHCs)

Federally Qualified Health Center Look-Alikes

Native Hawaiian Health Centers

Tribal/Urban Indian Health Centers
Specialized Practices and Programs:
Black Lung Clinics

Comprehensive Hemophilia Diagnostic Treatment Centers

Title X Family Planning Clinics

Sexually Transmitted Disease Clinics

Tuberculosis Clinics

Ryan White HIV/AIDS Program Grantees
Meeting 340B eligibility criteria and joining the 340B Program is not a one-and-done process. Your practice will be required to meet ongoing 340B Program requirements and recertify every year. If your entity changes status and no longer meets 340B eligibility criteria, your practice should contact the Office of Pharmacy Affairs (OPA) and stop purchasing discounted drugs through the 340B Program.
What Are the 340B Program Requirements?
If your practice is eligible for the 340B Program, you can apply online during the first two weeks of every calendar quarter (January, April, July, and October). If your application is approved, you will be listed on the 340B OPA Information System (OPAIS), assigned a 340B identification number, and entitled to receive discounts on all outpatient drugs that meet 340B eligibility.
As a participant of the program, you will need to comply with the following 340B Program requirements:
Keep an accurate 340B database of contacts

Avoid duplicate discounts and diversions to ineligible partners

Prepare for program audits from the HRSA

Get

recertified every year

if you still meet

340B eligibility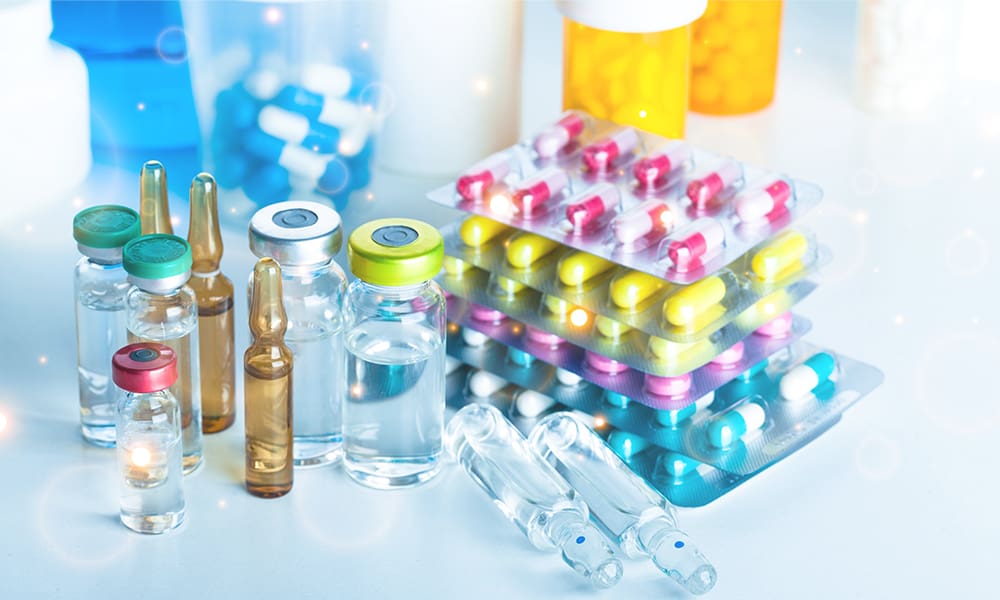 How Do the 340B Discounts Work?
Your practice can access 340B discounts through your wholesaler by setting up a 340B account. Be sure not to purchase drugs through a group purchasing organization (GPO), as this does not qualify for 340B discounts. Some manufacturers may require you to purchase their drugs through a specialty distributor, but they cannot charge you more than the 340B ceiling price. Your practice can, however, negotiate prices below the ceiling price.
The ceiling price is the average manufacturer price (AMP) less the unit rebate amount (URA). For most name-brand prescription drugs, the URA is 23.1%, while the URA for over-the-counter drugs is 13%. There are two instances when manufacturers must offer larger discounts on drugs:
If their best price for a name-brand drug is lower than than the AMP minus the URA

If the price of a name-brand or generic drug has increased faster than the rate of inflation
You can find pricing information from your wholesaler, manufacturer, or through the HRSA. If you have reason to believe you are not receiving discounts in-line with 340B compliance and your wholesaler or manufacturer will not cooperate with you, contact the OPA. You can also work with a Prime Vendor Program (PVP) to help you negotiate sub-ceiling prices using their distribution system across the US.
Who Can Receive 340B Discounted Drugs?
You can provide drugs purchased through the 340B program to individuals who appear in your records as patients receiving care at your practice, regardless of their pay status. This is why it is essential to keep an accurate and up-to-date 340B database that shows your 340B compliance.
You cannot resell or transfer drugs purchased through the program to non-eligible individuals. However, you can use a contract pharmacy to dispense discounted drugs to your eligible patients.
How Is 340B Compliance Enforced?
The HRSA has been auditing covered entities since 2012 to check 340B compliance and conducts around 200 audits annually. Manufacturers can also audit your practice to check patient definitions and the prevention of duplicate discounts, although this is much rarer and requires HRSA approval. However, the recertification process will also serve to ensure 340B compliance, so there's no getting around it: Your practice needs to be prepared.
The best way to prepare for a 340B audit is to enforce 340B compliance at your practice all year round. The following routine will ensure that you maintain program integrity and set yourself up for success.
Every Week
Review and update information on the HRSA database

Review HRSA updates for the drug pricing program

Maintain 340B software with patient information, billing units, and mapping functions
Every Month
Perform an internal audit to identify any diversion or duplicate discounts

Review purchasing records to identify any GPO violations

Use split-billing software to identify 340B compliance of financial risks
Every Quarter
Perform an HRSA 340B OPAIS review

Review Medicaid Exclusion File for accuracy

Spot-check account load pricing
Every Year
Perform independent contract pharmacy audit

Review 340B policy and procedure with team members

Prepare for Medicare cost report filing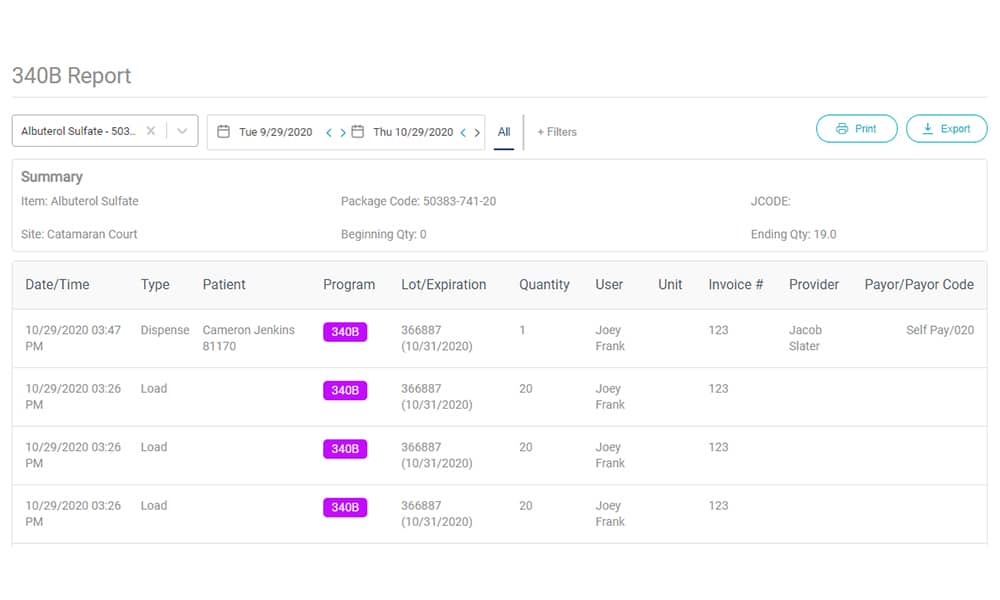 How Can My Practice Make 340B Compliance Easier?
The hardest part of 340B compliance is the manual effort. Your practice needs to separate inventory and track every dose of medication by invoice, provider, and prescriber. Each of these tasks may only take a few minutes but they really start to add up at a busy practice, which means less time for staff to provide top of license care to their patients. What's more, human error can affect your records even when you have taken the time to keep your practice 340B compliant.
The AccuVax Vaccine Management System and the AccuShelf Inventory Management System offer a configurable option to automatically capture provider, payor, invoice, and transaction data for all of your 340B vaccines and medications. With built-in reporting, you can eliminate cumbersome manual compliance efforts and view, export, or print your up-to-date information whenever you need it. This makes internal and external audits a breeze, so you can focus on providing the best care to your patients.
Enjoy all the benefits of the 340B Program without the stress of the manual compliance efforts. Contact TruMed Systems now to discover how we can support your 340B compliance.