Centrally manage your entire inventory–vaccines, medications, PPE and supplies
.
Gain insight into your inventory usage and costs
Gain insight into your inventory usage and costs
Complete inventory transparency, from receipt through administered for every item and every dose in real-time.

All-inclusive patient administration details on every vaccine, medication, and supply administered with item information including lot, expiration, date/time, and quantity.

Audit report for every safety check executed and the action taken to enhance quality of patient care

Financial and reordering forecast reports based on usage and optimal days on hand needs for cost-effective inventory management.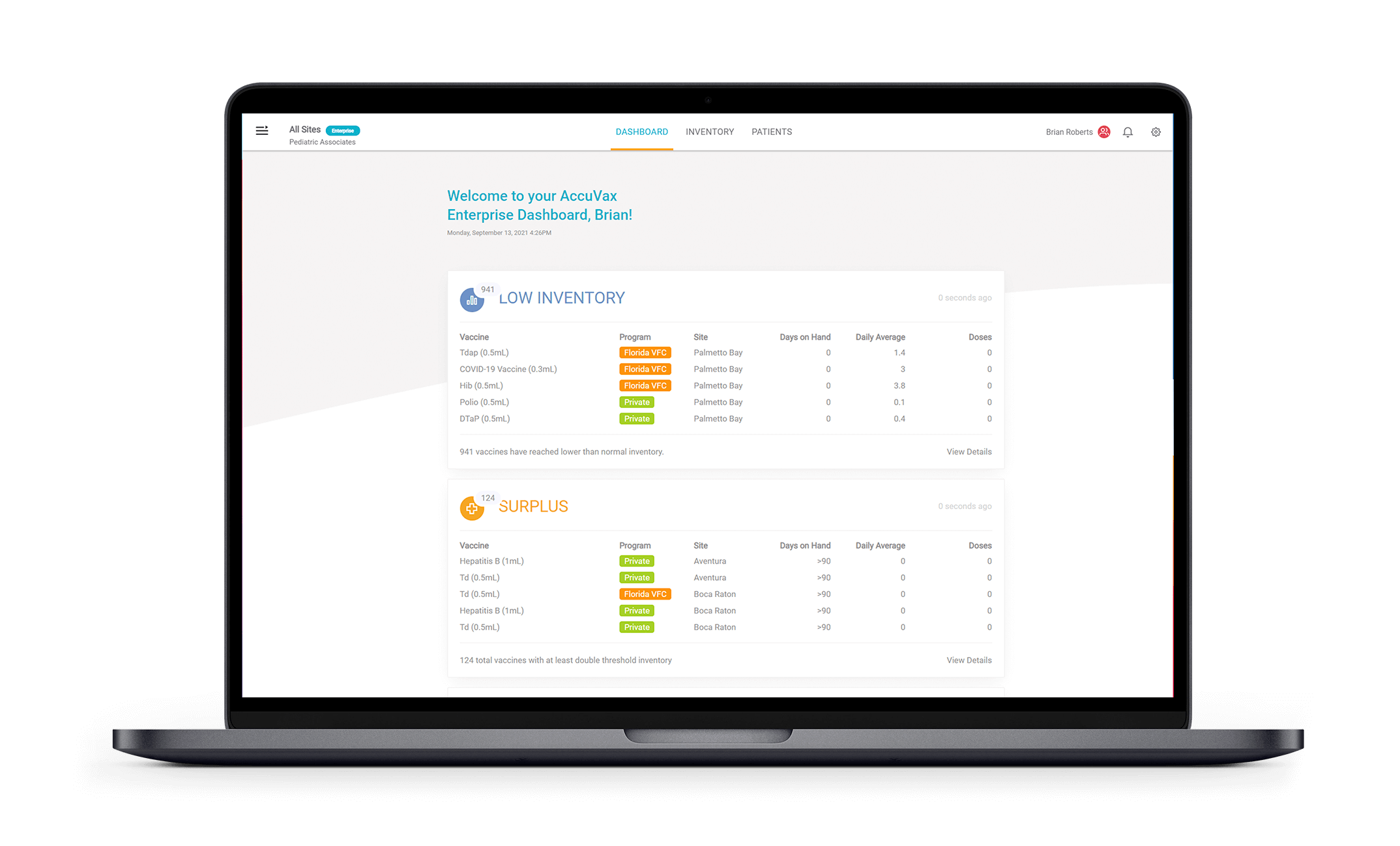 Tailored Enterprise-Wide Solutions.
Let us help tailor our solutions to meet your specific needs. Our products are designed to address the unique challenges throughout healthcare, from single-provider Pediatric practices to large, multi-facility healthcare facilities. With TruMed's flexible software and hardware solutions, enhance the control and efficiency of your medication and vaccine storage and workflows to streamline your entire inventory management. Learn how our solutions will meet your specific needs and increase inventory accuracy, standardize workflows, and improve patient safety.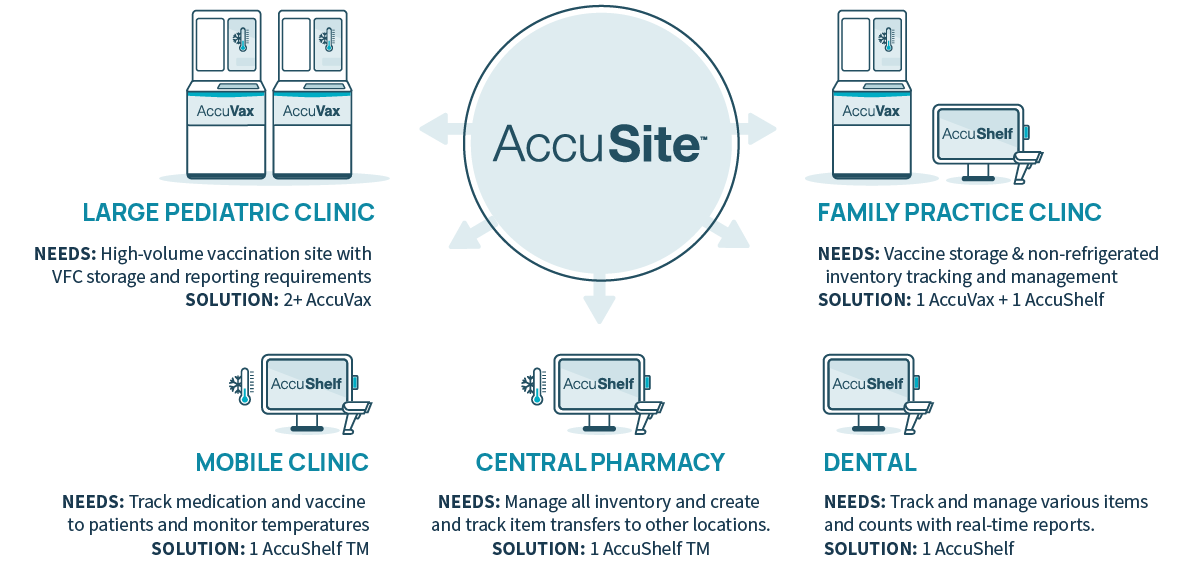 Stay in control of your inventory
AccuSite provides a customizable alerting suite so can you keep your finger on the pulse of your practice's needs before it is too late.
Configure text and/or email alerts per user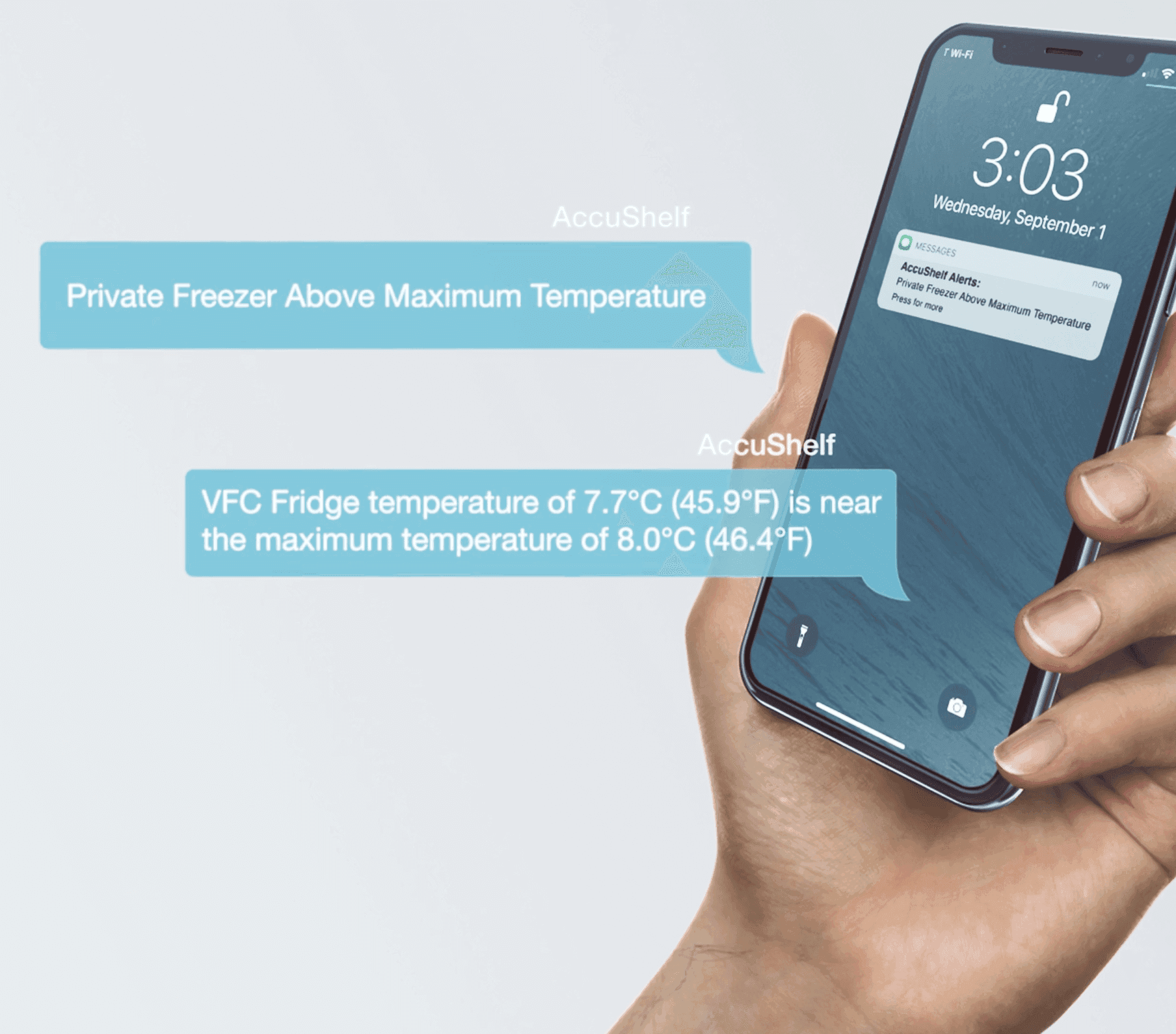 Reduces Waste and Loss
Cost-Effective Inventory Management
.
AccuSite reduces waste, loss, and discrepancies by creating a full audit trail for each transaction and accurately reporting inventory usage. User-defined low inventory alerts assist in avoiding inventory stockouts which can affect patient care. Real-time inventory on-hand totals and inventory traceability with reconciliation audit trails, simplify end-of-month inventory reconciliation and allow for cost-effective reordering.
Every AccuVax and AccuShelf performs patient safety checks on every dispense for every patient. Support HEDIS improvements with immunization schedule checks for each patient dispense that will review patient history, demographics, and safety data to inform prior to administration if all vaccines are included with patient schedule and age. Every safety check generates a safety audit report to document check against patient age, interval timing, duplicate selections, and dose series counts.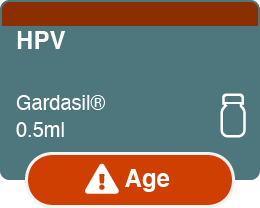 AGE CAUTION: Dosage is not recommended for patient age.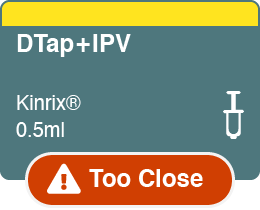 TOO CLOSE: Interval time too close since last administered in series.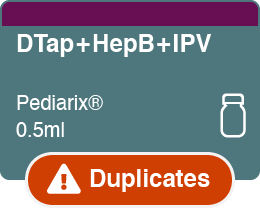 DUPLICATES: Two or more brands selected are for the same disease.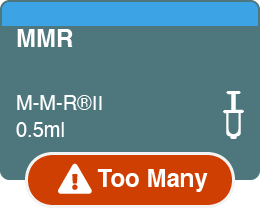 TOO MANY: Patient has already received all doses in suggested series.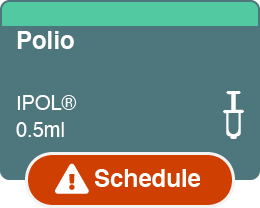 SCHEDULE: Immunization schedule checks on every dispense.