The COVID-19 pandemic challenged the United States healthcare system in severe and unique ways, not the least of which was the healthcare supply chain. While hospitals and infrastructure in major cities were arguably prepared for localized disasters or even terrorist attacks, no one was fully primed to respond to a nationwide and worldwide pandemic. It's hard to forget images from the initial months of the pandemic – nurses forced to reuse N95 masks shift after shift, staff desperately scrambling for ventilators, and even basic PPE like trauma gowns in short supply.
Healthcare workers have long realized the importance of preparedness, but COVID-19 opened the nation's eyes to the fragility and essentialness of the healthcare supply chain. Each facility and healthcare institution has felt the supply pinch during COVID, from large, urban hospital systems and small, rural individual practices. No matter the location, every healthcare center needs proper inventory management for reasons of patient safety and more.
Be Ready with Accurate Inventory Management
PPE is an obvious example of inventory management. Healthcare services would quickly grind to a halt without exam gloves. But medications, vaccinations, diagnostic equipment, and even mundane, non-medical supplies like paper and printer ink must be easily located, tracked, correctly invoiced, and kept in stock.
Every facility – from major, multicenter institutions to the local family practice – must be ready, not just for the next pandemic but also for day-to-day functioning. Of course, inventory shortages or lost inventory can negatively impact patient safety, but these problems have additional, less obvious consequences.
Continuously scrambling for inventory and running out of supplies put tremendous stress on staff and lead to job dissatisfaction. Furthermore, inadequate supply management can be costly.
Take the humble serum-separating tube, for example – a supply that virtually every healthcare facility uses daily. If inaccurate inventory tracking leads to a lack of these tubes, then rush delivery of replenishments would be needed. That's an extra cost, not to mention that lab tests will be delayed, overtime pay may be required to catch up, procedures may need to be canceled, and patients may decide to seek care elsewhere due to the inconvenience. The costs can quickly snowball.
State and federal regulations often require that facilities keep a minimum amount (or days' worth) of crucial supplies on hand. Compliance audits also require precise tracking and hard numbers. But, even more importantly, staff needs to know where everything is at a glance.
Periodic automatic replenishment (PAR) levels cannot be maintained through gut feeling and intuition. For too long, many healthcare facilities have been using the "glance in the supply closet" method of determining when to replenish PPE, office supplies, and even medications. As discussed above, this outdated practice can compromise patient safety and quickly become costly. It also wastes employees' time.
So, what's the fix?
The Answer
Inventory tracking and management is a massive undertaking. Even a small practice with a single clinician would need a full-time employee wholly dedicated to the task if the job was done manually. Large facilities that haven't kept up with automation sometimes have entire departments devoted to inventory tracking, management, and replenishment – especially if there are multiple locations.
Fortunately, technology has reached the point where healthcare inventory management can be almost entirely automated. Automated inventory management reduces human error, provides crucial information at a glance, and frees up staff to get back to patient care.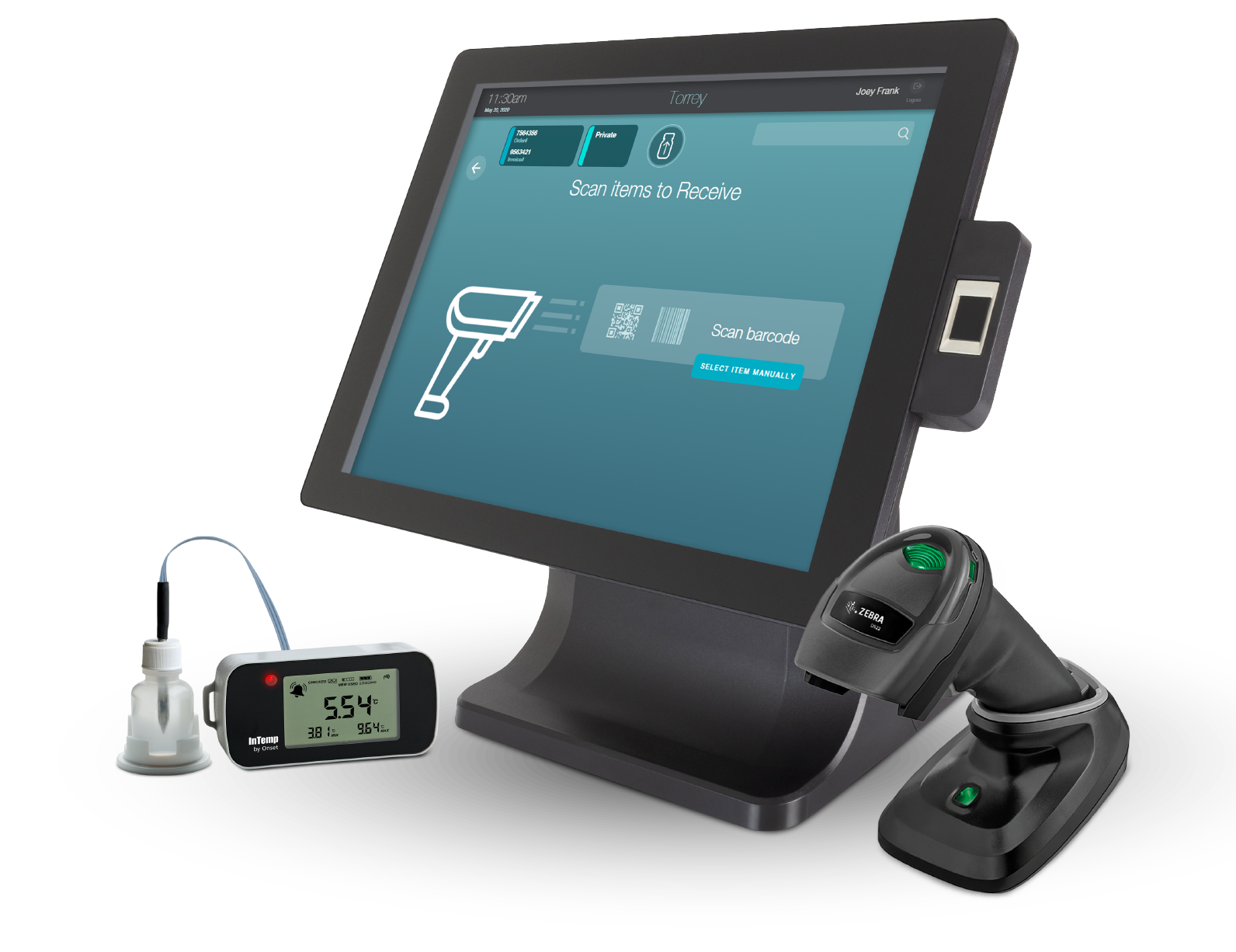 AccuShelf® by TruMed® is the solution for individual practices' inventory management needs. This automated system streamlines virtually every part of inventory control. AccuShelf uses a scanner-based system to record inventory intake and consumption reliably and accurately. The simple touch screen does not only relate gross inventory numbers. It goes much further, giving real-time information on the number of actual medication or vaccine doses available, temperature control, and much more. It will even let staff know when it's time to replenish an item.
This system also assists with compliance in a huge way. There is built-in 340B support with tracking of each dose by payor, provider, and invoice. Patient safety is also a major part of AccuShelf, with confirmation of dose and medication as well as alerts for expired or recalled vaccines and drugs.
What about care facilities that need more than a single point of inventory tracking and management? AccuSite is the cloud-based analytics tool providing insights and real-time information from AccuShelf and AccuVax. It is designed for extensive facilities or multi-site operations, providing across-site, real-time inventory tracking. AccuSite offers total communication across different corridors, floors, or even locations, whether your facility is a multi-practitioner dental clinic or an entire pediatric hospital.
Best of all, TruMed can customize AccuSite to your institution's unique needs. Do you require central pharmacy integration? That's not a problem with AccuSite. Does your facility regularly administer vaccines? TruMed can easily integrate AccuVax units into your AccuSite system.
AccuShelf and AccuSite let you know all the details on your inventory needs with a single look. Audible alerts promote patient safety, and notifications inform you about inventory needs before they become a problem. Your staff can even receive email and text alerts concerning inventory issues. All these features are combined with constant temperature, power, and inventory expiration monitoring.
Relieve the Pressure with Automated Inventory Management
If COVID-19 has taught us anything, it's to be prepared for the unexpected. Automated inventory solutions go a long way towards being prepared – not just for the next disaster or pandemic but also for everyday challenges. The healthcare field requires constant readiness to care for patients, meet compliance regulations, and make the most of resources. AccuShelf and AccuSite help to simplify these jobs and take pressure off your staff.