Over the last decade alone, the Food and Drug Administration (FDA) has issued more than 12,700 drug recalls. Effectively managing the medications and vaccines affected by these recalls is critical in any clinical setting. Often, however, already overstretched healthcare professionals have little infrastructure in place to ensure this happens consistently and manufacturers themselves only track down around 50% of recalled medications.
Understanding the FDA Drug Recall Process
The FDA does not mandate drug recalls, but medications and vaccines are often recommended for recall due to mislabelling, contamination, poor medical efficacy, or other issues related to safety.
Currently, the FDA categorized recalls into three classifications:
Class I: A dangerous or defective medication that can potentially result in severe health complications or death if administered.
Class II: A medication that could cause a temporary or serious health problem.
Class III: A medication that violates an FDA labeling or manufacturing law but is unlikely to result in any health reaction.
Since 2012, ~90% of drug recalls fell under Classes I and II, at 10.3% and 79.5% respectively. Class I recalls are the most serious type. As the number of drugs approved for use continues to increase each year, the need for the means to efficiently and accurately prevent the administration of recalled medications will only become more pressing – as of late 2021, over 20,000 prescription drugs are currently approved for marketing in the United States.
Since drug recalls in the United States are voluntary efforts, the administration can only make recommendations to pharmaceutical manufacturers on how to proceed. As a result, recall notifications have historically devolved into inconsistent communications between manufacturers, distributors, and the pharmacy and clinical staff who need the information most. If manufacturers can track down only 50% of recalled medications the recall is considered successful, even though half of the recalled drugs are still circulating.
How to Best Prevent the Administration of Recalled Medications
Preventing medical errors is a priority in any clinic or pharmacy, but determining the best way to do so can be challenging. Especially in recent years, healthcare facilities can see a lot of turnover, which introduces training challenges and increases the workload and pressure on remaining staff.
When it comes to navigating drug recalls, making medication management processes as streamlined as possible is vital for patient safety. Healthcare facilities should have systems, processes, and people in place to consistently:
Follow recall notifications. Ensure your facility has a process in place for staying up to date on FDA recall notifications and confirming whether the medication is in your facility's inventory lists.
Inform pharmacists, clinical staff, and patients of the recall. Make sure that staff members that handle or administer medications or vaccines are aware that the recalled drug has been used at your facility. Provide instructions on what they should do if they find doses that have yet to be removed. If required, inform patients of the recall of prescription medications.
Locate and remove recalled drugs. If a recalled drug is present, review stock lists and purchasing records to remove the recalled drugs as recommended by the manufacturer's instructions in the recall notice.
Remove recalled drugs from incoming deliveries. Check incoming deliveries for recalled drugs and communicate with suppliers and distributors to avoid receiving and storing more doses.
Document recall activities. While following the instructions in the drug recall notice, document the date of notification, the date of actions taken, the quantities and lot numbers removed, and notifications to manufacturers and healthcare staff.
Healthcare professionals are known for being highly trained, driven and conscientious people. So, how is it that hundreds of thousands of patients experience medical complications due to medication errors every year?  Research has repeatedly shown that human error is one of the biggest threats to patient safety, and the drug recall process relies heavily on human processes.
Protect Patients with Automated Medical Inventory Management Systems
Utilizing an automated medication inventory management system can significantly reduce the likelihood of medication errors. Automated workflows can provide pharmacy and clinical staff with reliable tools to improve the management of recalled drugs and ensure better outcomes for patients.
TruMed Systems created automated inventory solutions, AccuVax and AccuShelf, to solve the modern challenges facing healthcare professionals every day and better protect patients. Every time medication or vaccine doses are received or dispensed from an AccuVax or AccuShelf unit, the built-in Patient Safety Check compares each dose's lot number and National Drug Code (NDC) number to a database of current recall notices.
If the medication or vaccine has been recalled, an alert appears, letting the user know that the dose cannot be received or dispensed to a patient due to an open FDA recall. While this happens, all actions related to recalled drugs are automatically tracked and reported via the system's Activity feature, reducing the workload on already busy clinicians.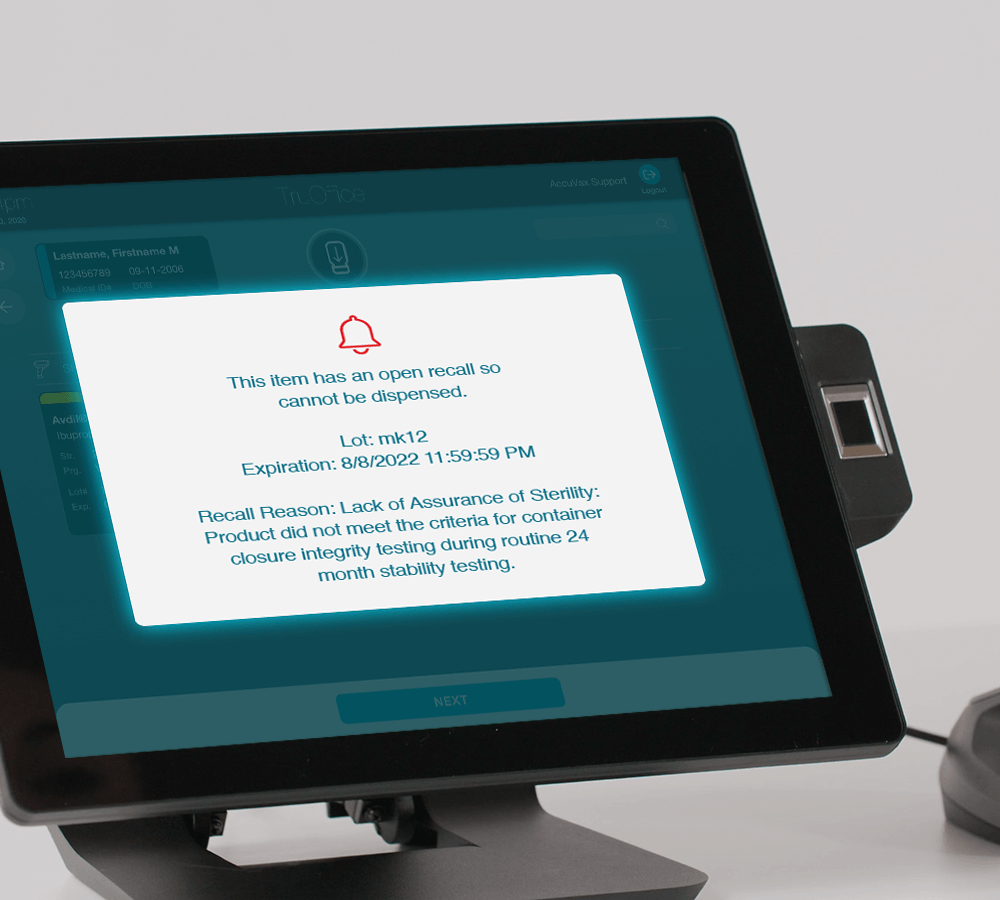 This not only makes managing recalled medication less stressful, time-consuming, and costly for healthcare facilities and staff, but it also protects patients by reducing the likelihood of medication errors. Additionally, AccuSite, TruMed's integrated inventory dashboard, has an FDA Recall feature that allows users to instantly generate a recall report and see all recalled drugs in their system that need removal.
Increasing patient safety is paramount, and with the right approach, automation and integration technology can simplify how your healthcare staff manages recalled medications. See how simplifying vaccine and medication management can increase your staff's confidence in protecting patients from the harms of preventable medication errors.