Why Children's Vaccines Are So Important This Summer
From taking vacations and sending children to camp to visiting family members and friends, many families are considering domestic, or even international, travel this summer. 
Although pandemic restrictions have been lifted across the US, children under 12 are not yet eligible for the coronavirus (COVID-19) vaccine and are therefore still at risk. The chaos of the pandemic may have also caused children to fall behind on their other pediatric immunizations, leaving them vulnerable to other dangerous diseases.
This blog post will explain how important it is for young children to take precautions this summer and beyond as the country reopens. Your practice can help inform parents with the following guidelines and children's vaccine recommendations, which are key to health and safety in 2021.
COVID-19 vaccines have already allowed more freedom this summer. Public places are reopening and masks and social distancing are only required for the unvaccinated, or due to federal, state, local, territorial, or tribal laws, rules, and regulations. Domestic travel has also become easier for anyone who has been vaccinated, since testing and quarantine is no longer required in almost every state.
Although the situation is clear and bright for vaccinated adults and teenagers, there remains confusion about the safety of children under 12 years of age. COVID-19 vaccines are not expected to be cleared for this age group until fall of 2021, which means summer safety and the return to school are a concern for parents of young children. 
While severe illness is rare among children, over 3.94 million children have tested positive for COVID-19 since the start of the pandemic. Even if the disease isn't usually deadly for children, they can still get sick and spread COVID-19 to others, including the immunocompromised, who are at greater risk of severe illness. Dangerous new variants of COVID-19 and missing other pediatric immunizations only add to the concerns.
With this situation in mind, 37% of parents say their children still won't have a normal summer this year. But what exactly is safe for children who haven't been vaccinated against COVID-19, or who have fallen behind on their immunization schedule, and what can parents do?
How Parents Can Keep Unvaccinated Children Safe 
Travel and social gatherings can still be a part of summer plans. The element of risk depends on each individual's situation. Ideally, you can discuss these with your patients, but the following guidelines are a good starting point for all families with young children. You can promote these tips throughout your practice and community.
Get Children Vaccinated
Pediatric immunizations are the best way to protect children from diseases at home and on vacation. All children should be up-to-date on their recommended vaccines, which are administered at different ages and through multiple doses. If children have fallen behind with their immunization schedules, it can be a relief for families to know they don't need to restart the process. Children can simply get the next shot they need and be back on track.
Children 6 and under should have received:
Hepatitis A

Hepatitis B

Rotavirus

Diphtheria, tetanus, and whooping cough

Hib

Pneumococcal

Polio

Measles, mumps, and rubella

Chickenpox

Influenza (annually from 6 months of age)
Children aged 7 to 18 should have received:
Meningococcal disease

Diphtheria, tetanus, and whooping cough

Human Papillomavirus (HPV)

Influenza (annually)
If a child is over 12 years of age, they are already eligible for the COVID-19 vaccine and should receive a shot unless they have specific allergies. While children under 12 cannot be vaccinated against COVID-19 yet, you can start waitlists and updates at your practice, so parents can bring in their young children for vaccination as soon as possible.
If patients are traveling internationally, they may require additional vaccines, such as typhoid or malaria, depending on the destination. It's important that your practice promotes information about these extra vaccinations.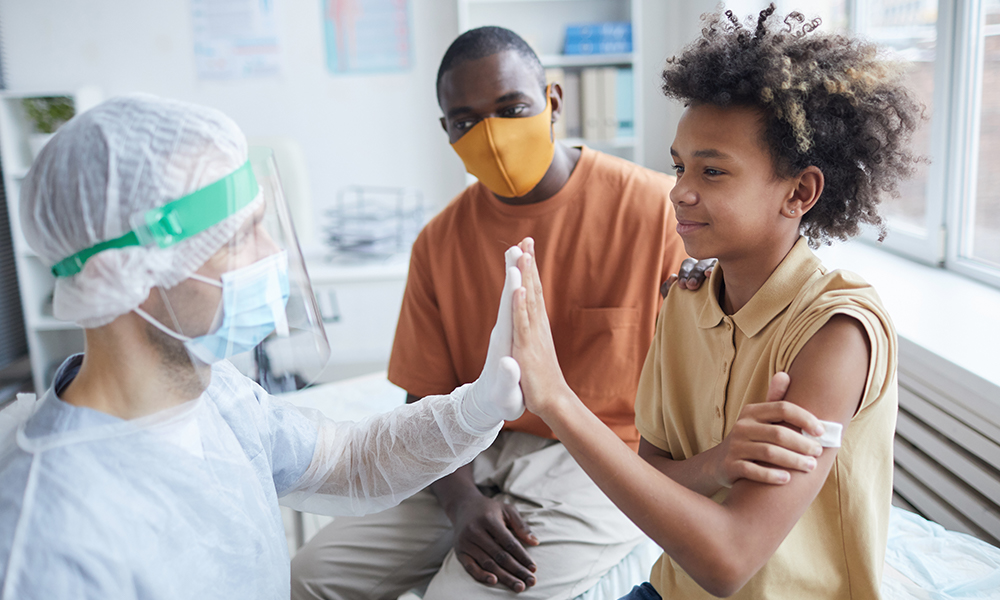 Take Precautions If Children Haven't Received
Pediatric Immunizations
If children don't receive their COVID-19 and pediatric immunizations before enjoying their summer plans, it's essential they take extra precautions. You can share this information at your practice and in communications with your patients.
Encourage your patients to choose summer activities carefully. Ideally, they will only spend time with other vaccinated family members in private accommodations. They should opt for road travel in their own vehicles where possible, and avoid cruises and long flights with layovers. While camping can be a great way to get some fresh summer air with the family, unvaccinated children should not stay at campsites with shared facilities. Hostel and dormitory-style accommodations are also higher risk this summer.
Summer camp requires extra considerations this year. Parents should only send children to camps with small groups, outdoor activities, strict cleaning protocols, regular screenings, and vaccinated staff members. Vaccinated children don't need to wear masks at camp, but camp leaders and unvaccinated children should be wearing masks unless sleeping, eating, or performing certain activities where masks would be dangerous, such as water sports.
Now that people are leaving the house more frequently, we're susceptible to catching all kinds of germs. Unvaccinated children should wear masks, practice social distancing, and avoid crowds. Make sure patients are aware that they need to wash their hands regularly and thoroughly. Most importantly of all, if an unvaccinated child, or anyone in the family, feels unwell, they should stay at home and err on the side of caution.
Patients should look out for the following symptoms and contact your practice if they get worse:
Fever

Sore throat

Coughing

Headache

Diarrhea, vomiting, or stomachache
Protect Children with Underlying Health Conditions
If an unvaccinated child has underlying health conditions, summer plans carry a larger risk, which should be clearly communicated to parents. Some studies have already shown that children with diabetes, obesity, lung disease, or immunosuppression may be more likely to have severe illness from COVID-19.
The medical community is still researching the potential long-term complications of COVID-19, which may affect patients no matter how mildly they experienced the disease. These complications could also be more problematic to children with underlying health conditions, just like other diseases can put them at greater risk. In this case, it may be advisable for families to wait until children have been fully vaccinated against COVID-19 and are up-to-date on all their pediatric immunizations before returning to their normal plans this year.
To help improve vaccination rates among all patients at your practice, read this blog post on helpful strategies to try.