Since early 2022, the ever-increasing cost of goods and services has put a strain on how businesses and private citizens cover necessities. The healthcare industry is no exception to this global shift.
Critical medical supplies – everything from surgical gloves, sterilizers, and gauze to medical devices and OTC medication – have hit all-time highs, often due to supply chain disruptions. As the cost of essential supplies strains operational budgets, forward-thinking healthcare administrators and business leaders are looking for lasting solutions to counteract these rising costs.
Rising Inflation Fuels Financial Challenges for Health Systems
Medical supply inflation isn't new to the industry – for example, between 2000 and 2021, healthcare expenditures tripled in the United States. What's different this time around? Perhaps for the first time, prices for all goods and services outpaced inflation in health spending.
According to data from the Bureau of Labor Statistics (BLS) data and the Consumer Price Index (CPI), health spending rose by 5.0% year-over-year in October 2022 compared to 7.7% overall.
That's likely because today's medical supply inflation is part of a much larger trend. As the countries have emerged from pandemic-era restrictions over the last year, we're still seeing the impacts of this disruptive time unfold.
Historically, medical inflation often occurred when tightly controlled pharmaceutical manufacturing was met with unexpectedly high demand. Today, however, many manufactured goods have become more expensive due to both the rising cost of raw materials and high demand.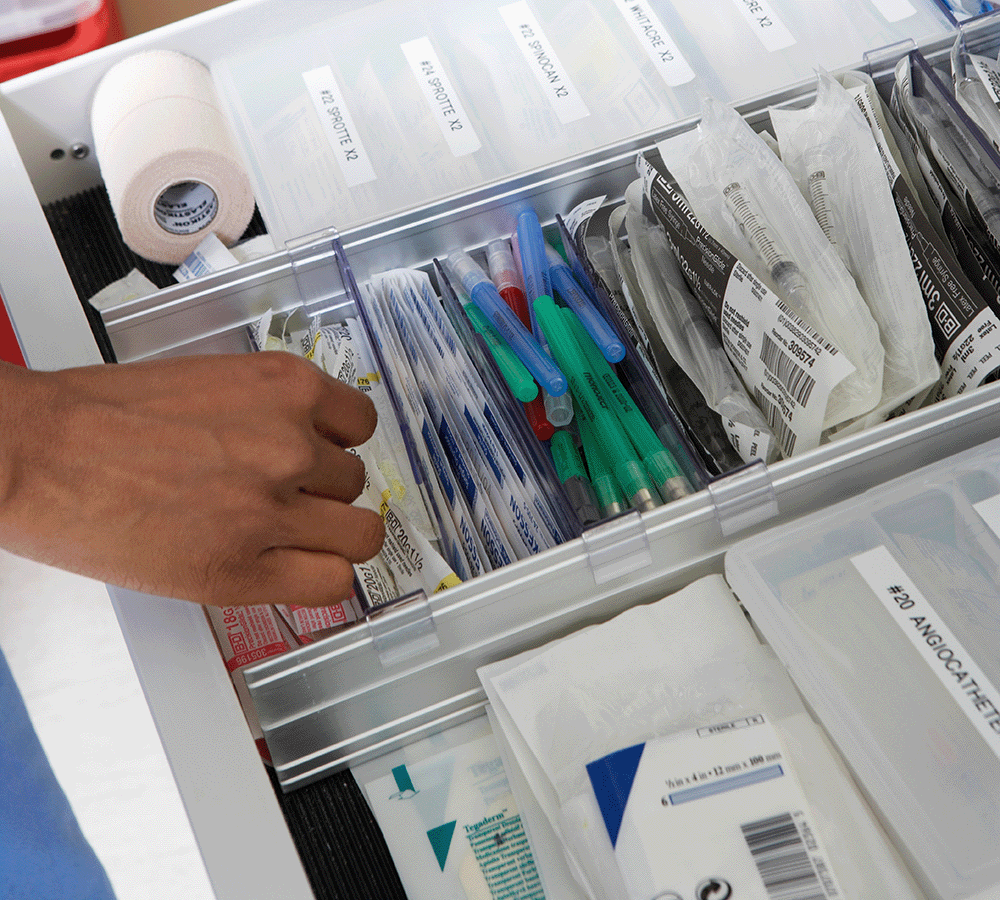 Inflation Limits Patient Adherence
Combined with supply chain disruptions, these circumstances are pushing pharmaceutical and medical supply manufacturers to raise costs – all of which have downstream effects on healthcare organizations and patients.
In addition to the rising costs of goods, inflation in the U.S. services sector has picked up. Inflation in healthcare outpaced that of the larger market. Labor costs rose between 4-8%, and According to the National Hospital Flash Report, labor expense per adjusted discharge increased by 14.6% in 2022. Overall labor costs grew 4-8% during the same period.
As costs continue to rise, the consequences will disproportionately be borne by uninsured adults, Black and Hispanic adults, and those with lower incomes – all populations that struggle with access to quality healthcare. However, insured adults are also feeling the impacts of inflation. Even though not all patients have seen a significant rise in out-of-pocket patient healthcare expenses, there are still repercussions that pose a significant risk to patients and healthcare facilities. Patients are compelled to choose between medical care and meeting their daily needs, while providers are confronted with a challenging financial path, struggling with rising costs of goods and labor and dwindling patient volume.
This reality makes it more important than ever for healthcare organizations to prioritize finding solutions to manage expenses.
Reducing Medical Supply Waste to Counteract Rising Costs
As we've outlined, there are several reasons for climbing healthcare supply costs. Among them, many of these factors are well outside of the control of healthcare administrators and providers:
Shortages of raw materials
Post-pandemic labor shortages
Global logistics backlogs
High demand for limited supplies
Underestimated demand for control substances (e.g., ADHD medication)
Healthcare organizations, however, can make the most of the resources they do have access to. To increase operational efficiency healthcare organizations can:
Partner with a GPO: GPOs like Premier, Inc. enable healthcare providers to receive better pricing on supplies through bulk purchasing agreements, without having to order in bulk.
Enable staff for efficiency. Give healthcare providers the tools they need to streamline common tasks related to medical supply dispensing, inventory, reporting, and disposal.
Implement hybrid care models. Encourage patients to utilize remote care options that can help cut down on wait times, free up staff to manage their day-to-day responsibilities, and ensure that they're using medical supplies like disinfectant wipes and personal protective equipment (PPE) efficiently.
Transfer inventory between facilities. Ensure that staff in organizations with multiple facilities are aware of and have the ability to request surplus supplies at other medical facilities or storage sites.

Transferring inventory between healthcare facilities can help to cut down on over-ordering of medical supplies, which can save healthcare organizations money in the long run. It also helps to reduce medical supply wastage.

Prioritize data-driven decision-making. Use inventory data to track

inventory levels, usage patterns, and ordering history, to make informed decisions about when and how much to order, which items are in high demand, and which items are not being utilized effectively.

Automate repetitive manual tasks. Turning to automation allows organizations to avoid inevitable human error, track medical supplies across the healthcare supply chain, and make processes more efficient.
Implementing these changes can help give healthcare organizations more visibility into how their medical supplies are being used and areas that they can improve to reduce medical supply waste. Over time, giving healthcare providers and staff the tools they need to automate medical supply inventory, dispensing tracking, and reporting will allow them to provide better quality care while optimizing for efficiency.
Streamline and Optimize Medical Supply Ordering with Automated Inventory Management Software
Using inventory management software can bring significant cost savings by automating the inventory management process, improving tracking accuracy, reducing paperwork, generating audit reports, and automating supply replenishment. By eliminating manual processes, healthcare facilities can save on labor costs and expedite inventory tracking.
Moreover, inventory management software provides real-time data, facilitating the development of more effective forecasting and ordering systems. This results in cost reduction by avoiding unnecessary inventory purchases and streamlining operations.
AccuShelf, TruMed's total inventory management system, saves staff time with automation and reduces waste. This easy-to-use solution provides the built-in capabilities your team needs to focus on patient safety while also:
Simplifying medical inventory control.
Guaranteeing proper storage temperatures to reduce wasted medications and vaccines.
Saving staff time from tedious and repetitive inventory tasks.
Reducing excess supply purchases and preventing waste.
Book a demo to learn how TruMed's automated inventory solutions can help your healthcare team combat the effects of medical supply inflation and streamline operational efficiencies.