National Health Center Week (NHCW) is an annual celebration held in the second week of August to raise awareness about the mission and accomplishments of America's community health centers (CHCs). This year's NHCW, which takes place from August 6 to 12, 2023, has the theme "The Roadmap to a Stronger America."
Every year, National Health Center Week serves as a reminder to recognize and celebrate the invaluable contributions of health centers across the United States. This week-long event highlights the critical role these centers play in providing affordable, high-quality healthcare to millions of underserved individuals and communities. National Health Center Week is not only a time to appreciate the remarkable achievements of these centers but also an opportunity to raise awareness about their services and advocate for their continued support. In this article, we explore the significance of National Health Center Week and shed light on the remarkable impact of these vital institutions.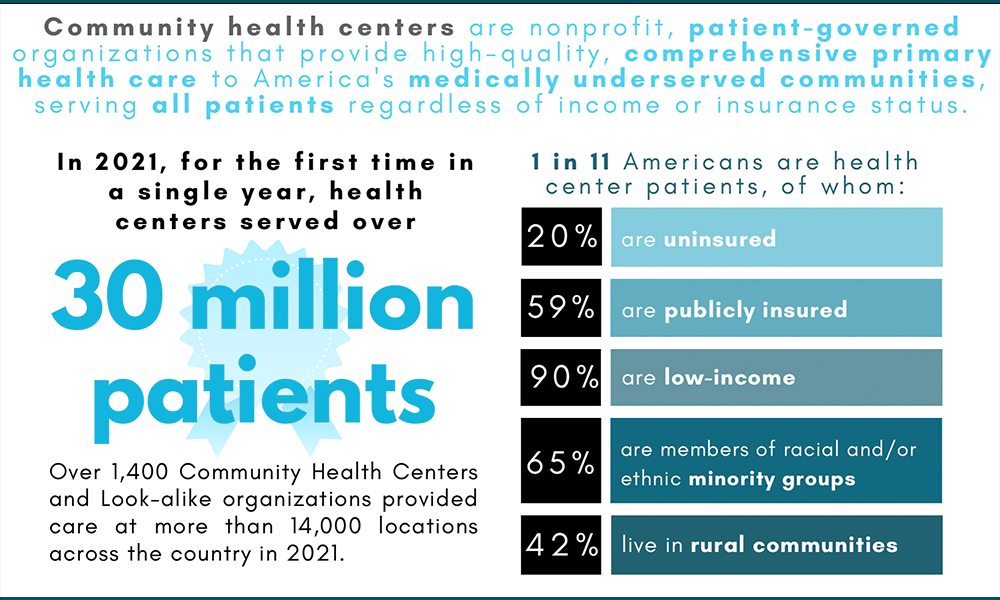 The Purpose and History of National Health Center Week:
National Health Center Week was first established in 1987 as an initiative to honor the work of health centers and their staff in delivering comprehensive healthcare services. Organized by the National Association of Community Health Centers (NACHC), this annual event aims to highlight the importance of accessible healthcare for all, regardless of an individual's socioeconomic status or background. It provides an occasion to celebrate the accomplishments of health centers in improving the overall well-being of communities across the nation.
The Role of Health Centers in Communities:
Health centers serve as the backbone of primary healthcare delivery in underserved areas, catering to the needs of low-income individuals, uninsured or underinsured populations, and vulnerable communities. These centers offer a wide range of services, including preventive care, chronic disease management, prenatal and maternal care, behavioral health support, dental care, and much more. By providing comprehensive care under one roof, health centers ensure that patients receive holistic and coordinated healthcare that addresses their unique needs.
Affordable and Accessible Healthcare:
One of the defining features of health centers is their commitment to providing affordable healthcare options to all individuals, regardless of their ability to pay. They operate on a sliding fee scale based on income, ensuring that care remains affordable for those with limited financial resources. This approach allows even the most vulnerable members of society to access crucial medical services without the burden of excessive costs, breaking down barriers that would otherwise prevent them from seeking care.
Improving Health Outcomes:
Health centers play a crucial role in improving health outcomes and reducing health disparities. By offering comprehensive primary care services, they focus on prevention, early detection, and the management of chronic conditions. These efforts lead to better health outcomes, fewer emergency room visits, and reduced hospitalizations. Health centers also foster health education and community outreach programs, empowering individuals to take control of their own health and make informed decisions about their well-being.
Engaging Communities and Partnerships:
National Health Center Week encourages health centers to engage with their local communities, forging strong partnerships with other healthcare providers, social service organizations, schools, and local government. This collaborative approach ensures that communities receive not only medical care but also support services that address the social determinants of health. Health centers are deeply rooted in their communities, providing culturally competent care that reflects the unique needs and preferences of the populations they serve.
NHCW 2023 Theme: The Roadmap to a Stronger America
 This year's theme emphasizes the crucial role of community health centers in improving the well-being of communities, promoting health equity, and charting a path toward a healthier, more resilient America.
NHCW 2023  FOCUS AREAS:
Each day of the week-long event will shine a light on pressing issues that significantly impact the health and well-being of communities. From tackling housing and homelessness to advocating for the needs of agricultural workers, National Health Center Week will provide a platform to highlight these critical topics and their role in shaping healthier communities.
National Health Center Week serves as a powerful reminder of the vital role that health centers play in our communities. These centers are beacons of hope, offering affordable, accessible, and comprehensive healthcare to those who need it most. As we gear up to celebrate this week, let us recognize and appreciate the dedication of the health center staff who work tirelessly to transform lives and uplift communities. Let us also advocate for continued support and investment in these invaluable institutions, ensuring that every individual has access to the care they need to lead healthier, happier lives.
If you live in an area that has a CHC, we encourage you to visit their website or call them to learn more about the services they offer. You can also find information about NHCW and how to get involved on the National Association of Community Health Centers website: https://healthcenterweek.org/.
Together, we can build a stronger America by supporting CHCs.