From manufacturing to administration, vaccines require careful handling and storage at specific temperatures to maintain viability and efficacy. Recently, experts on the Joint Committee on Vaccine Storage – led by NSF International and American National Standards Institute (ANSI) –  developed the NSF/ANSI 456 standard. This standard aims to provide consistent requirements for vaccine storage equipment to help reduce vaccine wastage.
In light of the COVID-19 pandemic, vaccine wastage has become the focus of major headlines. In 2021, when NBC reported that a minimum of 15 million COVID-19 vaccine doses were discarded across the United States in less than six months, they had the public's full attention.
Since early 2020, clinics and hospitals have had to contend with numerous supply chain disruptions and inconsistent demand in the face of widespread vaccine hesitancy. Together, these factors – combined with the push for rapid distribution of COVID-19 vaccines – make it difficult to avoid vaccine wastage. But although the pandemic has added undeniable urgency, this problem isn't new.
The reality is that inadequate and ineffective vaccine storage has been a long-standing global problem. As early as 2005, the World Health Organization (WHO) reported a vaccine wastage rate of more than 50% worldwide. Many of the contributing factors the WHO named in its report – poor inventory control, management practices, and storage capabilities – are still affecting vaccine distribution in clinics, hospitals, and other facilities over 15 years later.
Now, the new NSF/ANSI 456 standard for vaccine storage may allow healthcare facilities to minimize vaccine wastage to reduce costs, improve public health outcomes, and better serve the patients in their local communities.
What problems does the NSF/ANSI 456 standard address?
Every vaccine manufacturer provides storage specifications for each vaccine, which includes shelf-life when frozen, refrigerated, or at room temperature. Since vaccine wastage is a common problem that healthcare facilities face, industry best practices have focused on training staff on how to identify when vaccines are out of temperature range and considered "waste."
Now, the NSF/ANSI 456 standard allows healthcare facilities to take a more preventive approach in their fight against vaccine wastage. Unlike previous guidance, this standard focuses on defining requirements for the performance, design, and construction of vaccine storage equipment, such as refrigerators and freezers.
These requirements have been tested to identify storage equipment that can maintain internal temperatures of 5°C (+/- 3°C) across all potential storage locations while taking into account the variable environmental factors of a clinical setting. Previously, the most widely used and most highly regarded recommendations in the U.S. came from the CDC. In the vaccine handling resources it makes publicly available, the CDC recommends best practices to immunization providers and distributors.
The included resources address proper temperature monitoring for refrigerated and frozen vaccines, as well as inventory management, storage equipment maintenance, and staff training. These guidelines provide helpful information for monitoring and noting temperature excursions to ensure that degraded vaccine doses aren't administered to patients. However, they don't provide official criteria for vaccine storage equipment that can minimize excursions in the first place.
How can you prepare to follow the NSF/ANSI 456 standard?
Although NSF/ANSI 456 standard is voluntary, it provides healthcare facilities and providers with expert-vetted requirements for selecting vaccine storage equipment that provides more precise temperature control to protect vaccine doses. By adopting this standard, facilities can ensure their storage equipment provides the temperature stability and uniformity to preserve vaccine efficacy and viability.
These requirements help ensure safe storage for vaccines, as well as medications that require cold storage. Already, medical device manufacturers are ensuring their storage equipment meets the NSF/ANSI 456 standard, which will help raise minimum requirements across the industry, potentially reducing vaccine wastage and improving public health outcomes as a result.
The Joint Committee on Vaccine Storage developed standardized testing that assesses cold storage equipment for temperature recovery, temperature uniformity, and temperature stability. Your current storage equipment may fail to meet minimum performance requirements, such as a 1-minute time to recovery of the temperature setpoint after the fridge or freezer door has been opened.
So when preparing your facility to follow the NSF/ANSI 456 standard, you and your staff should prioritize which storage equipment to deprecate and replace with alternatives that meet the new performance standards. Additionally, with the right cold storage and management system, your facility can easily monitor and assess the performance and quality of your vaccine storage equipment and make strategic decisions that move you towards compliance with the NSF/ANSI 456 standard.
Which Medical Grade Refrigerators and Freezers meet the NSF/ANSI 456 Standards?
HELMER SCIENTIFIC
GX Solutions Refrigerators and Freezers by Helmer Scientific have been tested by a third-party laboratory to the NSF/ANSI 456 standard for vaccine refrigeration. These models are verified to provide appropriate temperature performance to safeguard vaccines in all potential storage locations and under varying load conditions according to this new standard.
Additionally, AccuShelf by TruMed integrates with Helmer GX Solutions i. Series® refrigerators and freezers to provide barcode confirmation of all stocking, picking, and dispensing activities of refrigerated and frozen vaccines. AccuShelf tracks all vaccines and medications as a part of a comprehensive, integrated inventory system. AccuShelf limits personnel actions through biometric-controlled access, secured door access, and provides reports of all door openings. AccuShelf enables automated temperature reports and makes centralized monitoring easy.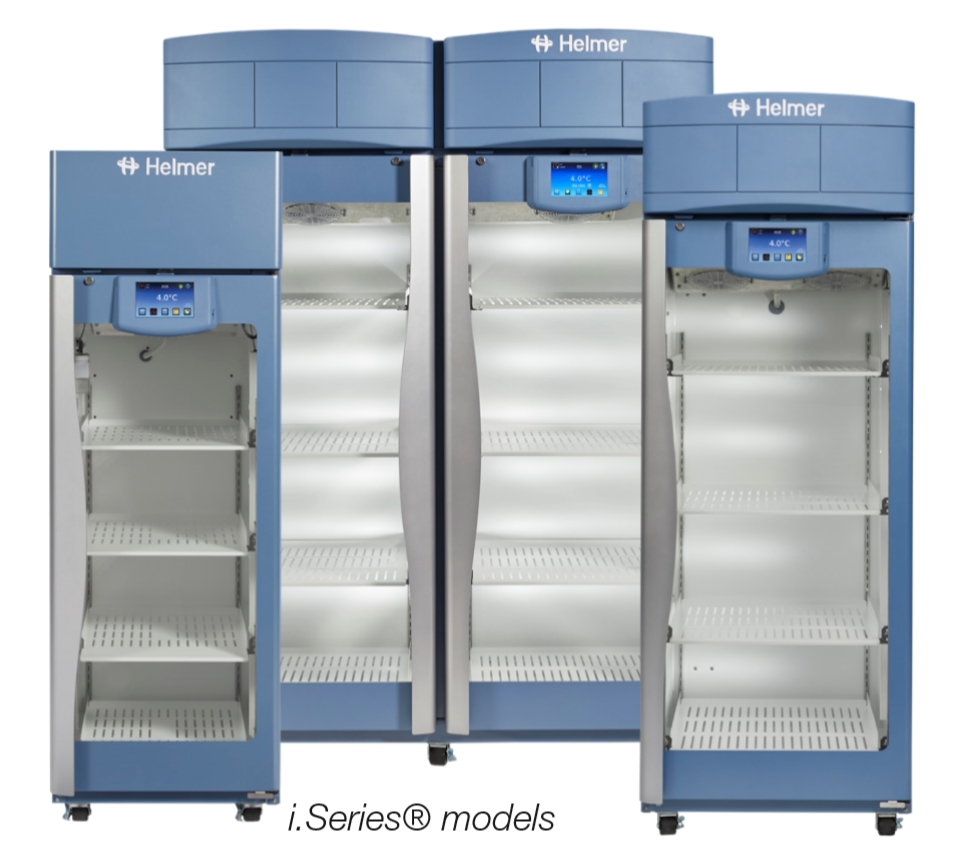 AccuVax by TruMed
TruMed's AccuVax® Vaccine Management Systems provides healthcare facilities with an all-in-one solution for reliable vaccine storage.  Meeting all NSF/ANSI 456 Vaccine Storage Standards, AccuVax delivers:
Guaranteed temperature control to preserve vaccine integrity.
Integrated digital data loggers that monitor temperature stability.
Prioritized dispensing that ensures the doses closest to expiration are used on time.
Customizable alerting suite for power outages and low stock
Accessible inventory management with intuitive, user-friendly interfaces.
Automated checks before dispensing vaccines to minimize common errors.
Schedule a demo today to see how AccuVax and AccuShelf can help you streamline your vaccine storage and handling workflows and help your facility minimize vaccine wastage.