As the United States Government's (USG) COVID-19 Vaccination Program and distribution of COVID-19 vaccines transition to the commercial market today, it is important to understand how this shift will impact healthcare providers. This article aims to answer the Frequently Asked Questions about the commercialization phase, from vaccine access to ordering procedures and potential adjustments to vaccine schedules.
The COVID-19 commercialization transition is the process of shifting the distribution of COVID-19 vaccines from the government to the commercial market. This means that, starting on August 3, 2023, individuals will no longer be able to receive free COVID-19 vaccines at government-run vaccination sites. Instead, they will need to obtain their vaccines through their healthcare provider or a commercial pharmacy. The transition to the commercial market is a significant change, but it does not mean that COVID-19 vaccines will be unavailable or unaffordable. The vast majority of Americans will still be able to get vaccinated without any financial hardship.
For uninsured Americans, the HHS and CDC announed the 'HHS Bridge Access Program For COVID-19 Vaccines and Treatments Program'("Program") to maintain broad access to COVID-19 vaccines for millions of uninsured Americans. The program will create a unique $1.1 billion public-private partnership to help maintain uninsured individuals' access to COVID-19 care at their local pharmacies, through existing public health infrastructure, and at their local health centers.
COVID-19 Commercialization FAQ's for Health Systems and Providers
What is COVID-19 commercialization?
The COVID-19 Vaccination Program and distribution of COVID-19 vaccines by the US Government (USG) stops and vaccines are transitioned to the commercial market. 
How will patients be impacted by commercialization?
Children eligible for the Vaccines For Children (VFC) program will be able to receive COVID-19 vaccines at no cost. Adults with no insurance will have access to vaccines at no cost through the Bridge Access Program for COVID-19 Vaccines and Treatments. The program will make vaccines available through state immunization programs, local health departments, HRSA-supported health centers, and pharmacies. Patients with private insurance will access COVID-19 vaccines the same way they access other vaccinations upon commercialization. 
How will commercialization impact ordering?
COVID-19 Vaccines through VFC/Bridge Access: It is anticipated that there will not be a separate process for obtaining COVID-19 vaccines for VFC providers and they will be ordered the same way other VFC vaccines are ordered currently. It is likely vaccines for uninsured adults will be obtained through a separate process through state and local health departments. 
Private Stock: COVID-19 vaccines will be ordered in the same way other commercialized vaccines are ordered through manufacturers such as McKesson.  
The next round of FDA-approved COVID boosters set to debut in the fall will be the first set of vaccines to be distributed by manufacturers instead of the government. This means that providers will need to place their orders directly with the manufacturers.
Will there be single-dose vials?
The commercialization phase brings hope for more convenient vaccine administration. There is an expectation that single-dose vials and lower-minimum quantity orders will be available, simplifying the vaccination process for healthcare providers and enhancing overall vaccine distribution.
How much will COVID-19 vaccines cost providers to purchase?
CDPH anticipates the price will be around $80-$130 / dose. 
What will the public pay for COVID-19 vaccine after commercialization?
Most people will not have any out-of-pocket costs for COVID-19 vaccines.
For those with private insurance plans, vaccines recommended for routine use by the Advisory Committe on Immunization Practices (ACIP), including COVID-19 vaccines, will be fully covered without a co-pay when receiving the vaccine in network, per the Affordable Care Act. There may be fees for out-of-network care.
For Medicare Part B beneficiaries, COVID-19 vaccinations are covered without cost sharing, and this will continue.
For Medicare Part D/equivalent plans, ACIP-recommended vaccines will be fully covered at no cost, because of the Inflation Reduction Act.
Medicaid will continue to cover all COVID-19 vaccinations without a co-pay or cost sharing through September 30, 2024, and will cover ACIP-recommended vaccines for most beneficiaries thereafter.
Bridge Access Program (BAP): Uninsured adults may be eligible for BAP and receive COVID-19 vaccines free of charge.
Will/when will vaccine schedules change?
An updated recommendation from the FDA is expected for all ages in mid to late September. FDA has instructed manufacturers to target the XBB.1.5 strain. 
Will reporting requirements change?
Until the transition / USG program ends, providers should ensure they continue to complete all reporting requirements outlined in the COVID-19 Vaccination Program Provider Agreement. According to the CDC: direction will be forthcoming on activities to complete before the program ending. 
Reporting of COVID-19 vaccines administered, inventory, etc. through VFC or other public programs will be required the same way they are for other vaccines. 
Upon commercialization, providers will no longer be asked to report their inventory to vaccines.gov; however, it will still be encouraged to ensure the public knows where to find free COVID-19 vaccines. 
Will billing codes change once commercialization occurs?
There will likely be new CPT codes once fall monovalent vaccines are available. 
How should Covid-19 Vaccines be stored?
Trumed's Accuvax Vaccine Management System provides the ultimate solution for managing the complexities of Covid-19 vaccines. Temperature monitoring and adjustments, real-time inventory, stock rotation, and detailed information for vaccine audits are all handled by Accuvax, saving your staff hours each month and cutting down on errors and wasted supplies.
In addition, AccuVax has a patented door-less design, allowing vaccines to be loaded and dispensed with minimal opening, ensuring temperatures stay constant, even during heavy use. In the event of a power outage, the built-in battery power back-up maintains temperatures consistent for 8 hours or more, while the alerting suite instantly informs you of the power and temperature situation.
Schedule a demo today to learn how TruMed Systems can help you protect your COVID-19 vaccines for a more effective immunization program at your practice.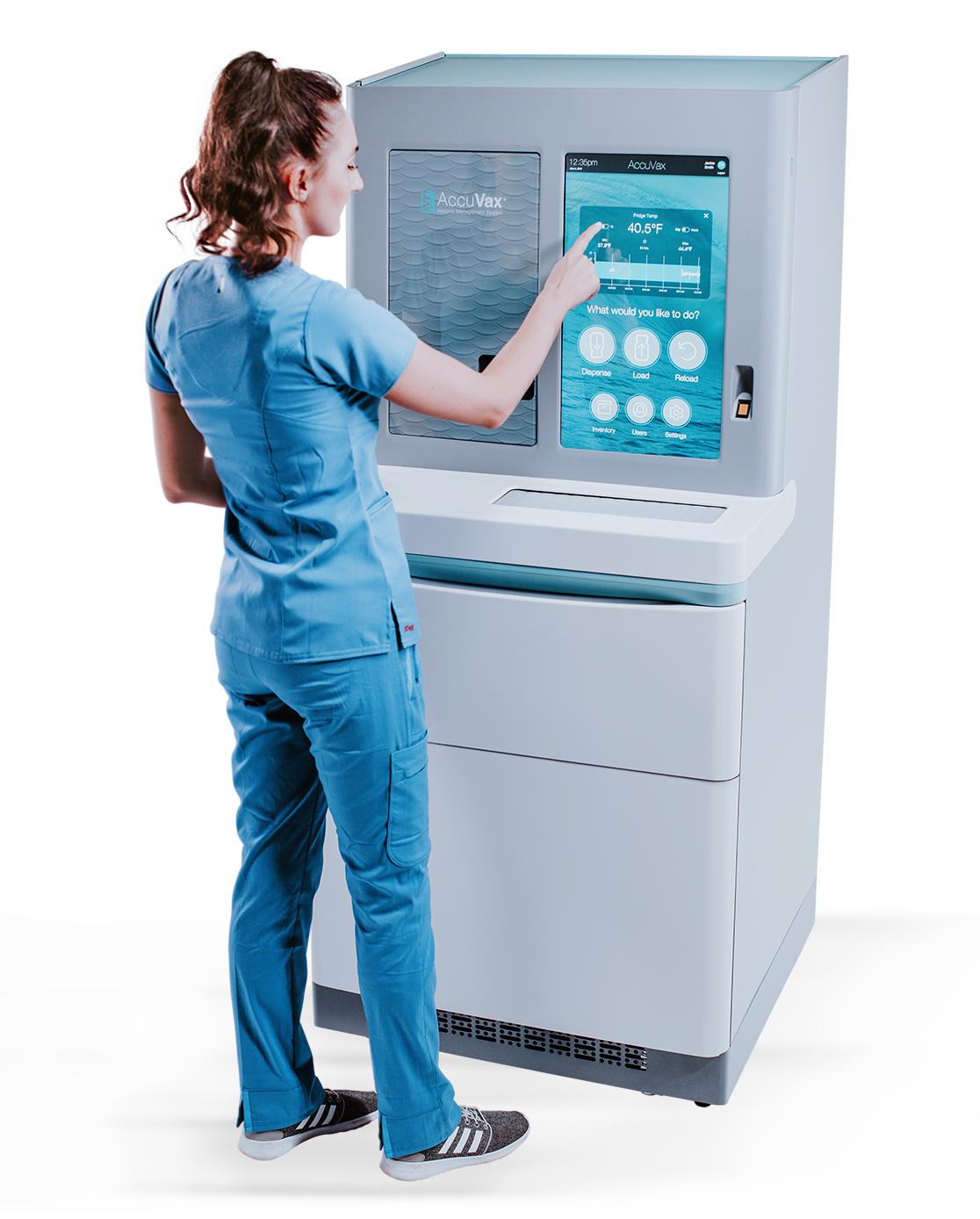 Where can I find more information?
In anticipation of the transition, the CDC and HHS published guidance for providers on July 6 detailing what to expect regarding vaccine inventory, ordering, and data reporting. The guidance includes information on how to place orders, how to track vaccine inventory, and how to report vaccination data to the CDC.
Read the HHS COMMERCIALIZATION TRANSITION GUIDE for more information.
Additional Resources:
Commercialization Resources