Streamline your inventory with the touch of a finger
Efficient Inventory Control
Efficient inventory control and management reduces waste, loss, and discrepancies, assisting with charge capture.
Enhance patient safety with confirmation of correct dose prior to administering.
Standardize and Simplify Workflows
Standardize and simplify workflows across all items, from medication, supplies, and vaccines.
Supports 340B workflows and compliance reports.
Interested in hearing more?
Please leave your email below
Manage Your Entire Medication Inventory, from Aspirin to Zoster
AccuShelf is the latest product from TruMed® Systems, the makers of the AccuVax® Vaccine Management System. AccuShelf extends the benefits that AccuVax has delivered to hundreds of healthcare providers managing vaccines and applies its extraordinary inventory management tools to encompass any medication.
AccuVax has become the emerging standard in vaccine management, protecting vaccine potency, saving staff time for Top of License care, eliminating waste and loss, and maximizing patient safety. AccuShelf delivers the same benefits for any medication on a shelf or in a cabinet.
Both products seamlessly work together to track every item in your practice, from Aspirin to Zoster.
How AccuShelf Works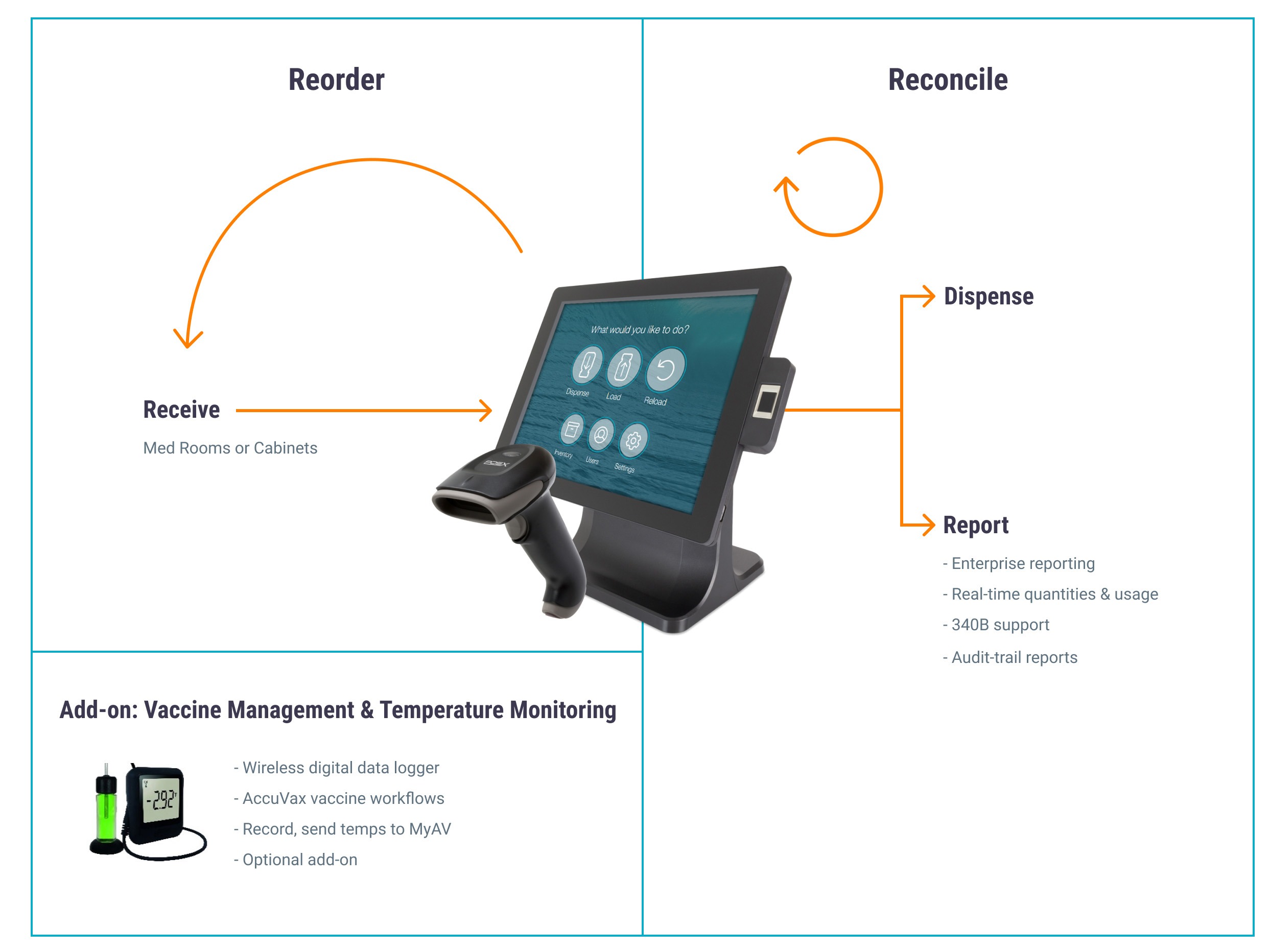 – Enterprise reporting
– Real-time quantities & usage
– 340B support
– Audit-trail reports
Add-on: Vaccine Management & Temperature Monitoring
– Wireless digital data logger
– AccuVax vaccine workflows
– Record, send temps to MyAV
– Optional add-on
Technical Specifications
System

– Enterprise-grade, industrial designed all-in-one PC system
– 15" TFT LCD display with PCAP multi-touch technology
– Dual hinge design allows unlimited tilt viewing angles
– Built-in VESA shelf or wall mounting option
Size – 14.2"wied x 8"deep x 10.9"tall, 13.2lbs
Scanning
– Wireless scanner, 300 ft range
– 2D scan engine supporting all common dedication barcodes
– Includes drop-and-charge cradle, 50,000 scans between charges
Network – Ethernet & WiFi communications
Portal – Cloud-based, user permission access to My.AccuVax.com provides central inventory management and analytics
Notifications – Proactive alerting suite with email and text, includes low and expiring stock alerts
Power – 90W/19V supports standard wall outlet
Security – SOC2 Type 2 compliant meeting corporate security requirements
Access – Secure authentication with integrated fingerprint reader
Support – 24/7 customer service
Warranty – Maintenance and repair include
Optional – Cellular (3G LTE) communication and battery back-up