Automated Vaccine Storage & Inventory Management
With a simple and intuitive design, the AccuVax® Vaccine Management System dramatically improves vaccine storage, temperature control, and assures maximum workflow effectiveness. CDC vaccine storage & handling guidelines may be thorough but it includes many high-touch, time-intensive manual steps for any practice.
From documenting daily temperatures, minimizing exposure to excess light, tracking and rotating expiring stock, and maintaining a high level of accurate inventory counts; it requires time that is better served for patient face-time. AccuVax is purpose-built to automate all of these compliant manual steps to add time for a practice to focus time with their patients. 
"Our facility is very thankful for the peace of mind that the AccuVax gives. AccuVax has been amazing, whether it is during loading or dispensing, or performing a monthly count. AccuVax has made it truly stress free to perform these duties and tasks."
–Nichole Minjares, MA Vaccine Coordinator, Indian Health Council
Accurate Temperature Control & Logging
AccuVax is designed to store vaccines at their exact temperatures, ensuring their potency when administered. Multiple temperature sensors monitor and control AccuVax temperatures 24/7, ensuring that even the slightest deviation in temperature is discovered before a temperature excursion.
CDC and VFC compliant vaccine temperature logs are available instantly, so you never again have to manually log vaccine temperatures. The doorless designed AccuVax maintains constant temperatures, even for practices with high volume vaccinations.
Complete Safety & Alerting Suite
AccuVax maximizes patient safety with a comprehensive real-time alerting system for product expiration, stock depletion, temperature deviation, and, in the event of a power outage, when the system's back-up battery is activated. Alerts can be set for text and/or email delivery. Workflows also include patient safety checks that help eliminate up to 91% of common vaccination errors.
Biometrically Secure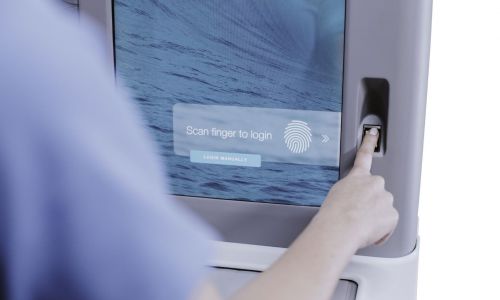 AccuVax is fully HIPAA compliant from end to end. It is the first automated, biometrically secure loading and dispensing system that enables you to track who dispensed what vaccine, and allows you the flexibility to use the machine anywhere in your practice by ensuring that only those authorized can access vaccine stock in the machine.
Battery Backup
AccuVax also has a built-in battery backup, so in the event of a power outage, the battery built-in power back-up keeps temperatures consistent in the vaccine freezer and refrigerator zones, and the comprehensive alerting suite instantly informs you or someone on your staff of the power and temperature situation. The standard battery guarantees power for 8 hours, the extended battery add-on can guarantee power for 18 hours.
Capacity:
Refrigerator: 600 locations & up to 300 additional doses in drawer
Freezer: 119 frozen doses
---
All vaccine presentations accepted (vial, syringe, oral, nasal, multi-dose vials)
---
Dimensions: 30.0″W x 28.5″D x 65.0″H
Drawer 0.36 cubic feet of storage space
---
Integrated Digital Data Loggers: 7 integrated, NIST calibrated
---
Built-in battery backup provides power up to 15 hours
---
Standard power (120V)
---
Ethernet & WiFi connected with backup cellular communication
---
HIPAA & SOC 2 Type 2 compliant with biometric controlled access protects PHI
---
24/7 customer service, including remote monitoring
---
All maintenance and repair included