As the 2023-2024 flu season approaches, primary care clinicians have a crucial role in safeguarding their patients' health and well-being.
In this blog, we'll explore the updated recommendations released by the Advisory Committee on Immunization Practices (ACIP), the changes regarding the H1N1 component of the 2023-2024 flu vaccine, as well as storage temperature guidelines. By being informed and prepared, primary care clinicians can ensure their patients receive the best possible protection against the flu and its potential complications.
2023-2024 Flu Vaccine Recommendations
The Centers for Disease Control and Prevention (CDC)  has announced changes to vaccination guidelines for certain individuals ahead of this year's flu season.
The recommended timing for receiving your flu vaccine remains unchanged – the optimal period is still September and October. Vaccinations in August are not advised, unless it's the third trimester of pregnancy, for children requiring two vaccine doses, or for individuals who won't have access to vaccination later in the fall.
The current recommendations stipulate that everyone aged 6 months and older should receive an annual flu vaccine. The effectiveness of these vaccines each year is contingent on their alignment with the prevailing virus strains, according to the CDC. Initial estimates indicate that during the previous season, individuals who were vaccinated against the flu had a 40%-70% reduced likelihood of hospitalization due to flu-related illnesses.
Updated Flu Vaccine Compostion
Flu viruses are constantly changing.  The H1N1 component of the 2023-2024 influenza vaccine will be updated for egg-based, cell-based, and recombinant formulations. Each year, the U.S. Food and Drug Administration's (FDA) Vaccines and Related Biological Products Advisory Committee conducts a thorough evaluation of the composition of flu vaccines. These vaccines are then adjusted as necessary to provide the optimal alignment with the strains of flu viruses that research suggests will predominate in the approaching season. Notably, for the 2023-2024 season, adjustments have been made to the U.S. flu vaccines, incorporating a revised influenza A(H1N1)pdm09 component.
For Egg-Based Vaccines:
A/Victoria/4897/2022 (H1N1)pdm09-like virus
For Cell-Based or Recombinant  Vaccines:
A/Wisconsin/67/2022 (H1N1)pdm09-like virus
Flu Vaccine Information for People with Egg Allergies
The majority of flu vaccines are manufactured using eggs, resulting in the inclusion of minor traces of egg proteins. Previously, individuals with egg allergies were recommended to receive flu vaccines with certain "additional safety measures" in place, especially if they were prone to severe reactions.
According to the CDC, these additional precautions are no longer necessary. Presently, individuals with egg allergies can be administered any type of flu vaccine, whether egg-based or not, that aligns with their age and health condition. There's no requirement for special safety measures beyond those generally followed for any vaccine. If there are inquiries about the vaccine, it's advisable for individuals to consult their healthcare provider.
Flu Vaccine Storage Temperature
Flu vaccines exposed to temperatures outside their recommended range can lose their efficacy, ultimately reducing the impact of your immunization program and patient confidence in vaccines. Following CDC recommendations for the safe storage of vaccines, including the flu vaccine,  helps ensure that every flu vaccine dose counts. This is key to keeping flu cases as low as possible. The flu vaccine must be stored in a refrigerator unit at a temperature between 35° and 46°F (2 and 8°C). The vaccine should never be frozen or kept outside of a refrigerator.
Storage and Handling for 2023-2024 Flu Vaccines
The CDC recommends the use of purpose-built or pharmaceutical-grade units designed to either refrigerate or freeze or both.  Purpose-built units, sometimes referred to as "pharmaceutical-grade" are designed specifically for vaccines.
Helmer Scientific offers a full range of pharmacy refrigerators and freezers with superior temperature uniformity, recovery and stability. Local alarms, event logging and continuous temperature monitoring help the pharmacy meet guidelines and regulations for vaccine storage. 
TruMed's AccuVax, is a purpose-built, all-in-one vaccine management system. AccuVax ensures a more efficient vaccine storage and inventory management process. The all-in-one system includes refrigerator and freezer technology, a door-less design, and guaranteed temperature monitoring. The built-in battery backup also maintains vaccine integrity for 8 hours in the event that your practice experiences a power outage or the system is accidentally unplugged.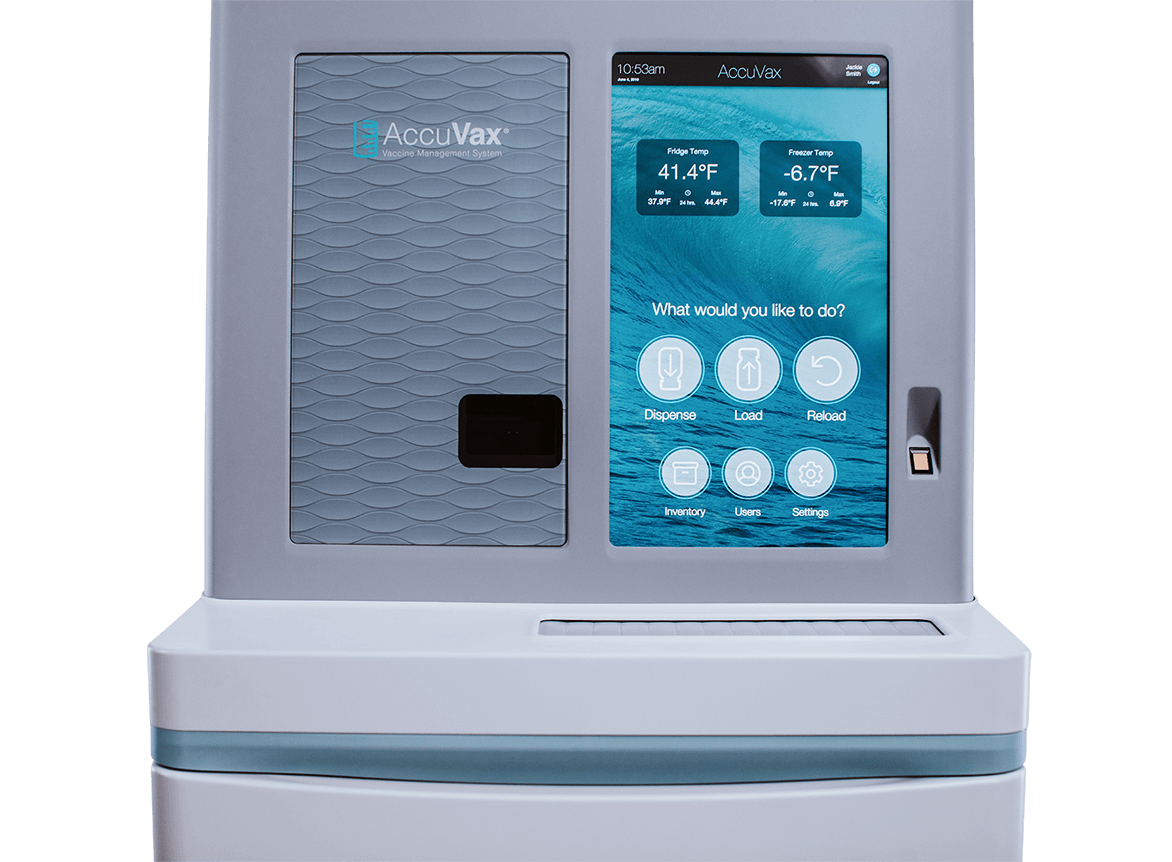 Unlike dangerous dormitory-style units and unreliable combination units, AccuVax can safely store both refrigerated and frozen vaccines in one unit. The purpose-built, pharmacy-grade system automatically separates vaccines, so you don't need to worry about storing them incorrectly and letting them go to waste. What's more, the door-less technology and built-in battery backup eliminate the main causes of temperature excursions and guarantees the protection of all vaccines stored in the AccuVax.
It is crucial for your facility to have proper vaccine cold storage that is set up correctly, monitored accurately, maintained appropriately, and repaired as needed. This equipment protects patients from inadvertently receiving compromised vaccine and your facility against costs of re-vaccinating patients, replacing expensive vaccines, and losing patient confidence in your practice.
Find out how the AccuVax can support your practice through the busy flu season to provide an effective immunization program.