As new and more expensive vaccines become available, vaccination providers around the country are confronted with higher vaccine costs.
Of course, the purchase prices of these vaccines tell only half of the story. True vaccine costs also include the costs of storing and managing the vaccines. When these processes are carried out improperly or ineffectively, practices risk losing even more money in the form of waste and lost opportunity costs, which in turn affect the business of the practice.
Related: Calculate the potential revenue uplift from our vaccine management system…
Read on to find out what it really costs to keep vaccines, how extra vaccine costs are incurred, and what you can do to manage the vaccines at your practice to cover overhead. 
How Much Does It Cost to Keep Vaccines?
Your total vaccine costs will include the purchase price of the vaccines plus the ongoing cost of vaccine inventory management and vaccine storage. The following breakdown will give you an idea of what many practices spend on these two aspects.
Vaccine Purchasing Costs
The U.S. Centers for Disease Control and Prevention (CDC) maintains a vaccine price list, which shows up-to-date contract prices as well as private sector prices for general information. Manufacturers are not required to provide their private sector costs, however these vaccine prices can be used as a baseline for your vaccine acquisition process.
Pediatric, adult, and influenza vaccine costs range from $11 to $140 CDC cost per dose and $17 to $227 private sector cost per dose. You only need to consider how many patients you see and which vaccines you need to provide them with to understand that vaccines costs are significant. In fact, the cost of vaccine purchase in 2020 is around $1225 per child for all the recommended vaccines, and this is set to increase in the future. You also need to put staff time toward purchasing inventory, negotiating the vaccine costs, and issuing the invoices.
While discounts are available in some instances when purchasing vaccines, your practice should not rely on these as a way to reduce overall vaccine costs. Some practices may not qualify for discounts at all, and many discounts may only be available for a limited period of time that doesn't align with your reordering needs.
Vaccine Inventory Management
Costs
A large chunk of your practice's annual vaccine costs may be going toward vaccine inventory management and vaccine storage — and not just because these are ongoing processes. 
Let's say your practice administers around 40 vaccines a day, with 50% VFC inventory. To manage the $960,000 of vaccines purchased annually, you may be looking at annual costs of up to $70,000. This includes the costs of running and maintaining vaccine storage equipment, the hours your team members need to spend on vaccine inventory management, and the cost of inventory loss. However, many of these additional vaccine costs can be avoided, allowing your practice to operate more efficiently.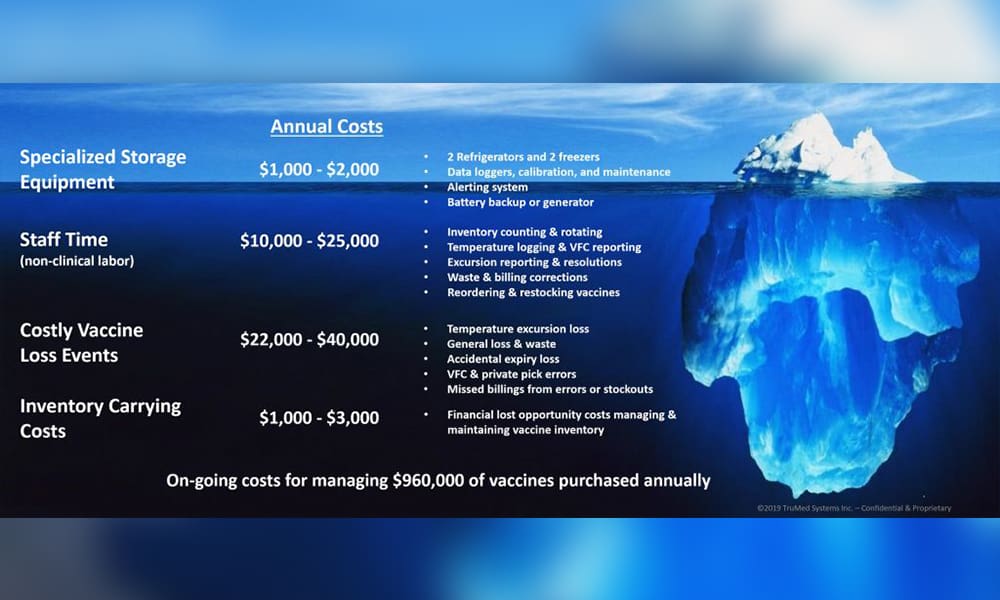 The Most Common Cause of Extra Vaccine Costs
The following vaccine costs are often incurred by practices without the most efficient vaccine inventory management and vaccine storage systems in place.
Inventory Loss from Poor
Vaccine Storage
Your practice needs specialized refrigerator and freezer units, as well as data loggers, an alerting system, and a backup battery or generator. Running and maintaining this equipment for a year starts at $1,000, but effective equipment can be more expensive. Of course, it will cost you even more if you don't use specialized vaccine storage units.
Vaccine loss events can cost your practice between $22,000 to $40,000 a year in lost, expired, or damaged vaccines. As you deal with new and more expensive vaccines at your practice, the cost of vaccine loss events are only going to increase if you don't store your inventory correctly.
Ineffective vaccine storage equipment does not maintain the exact temperatures you need to maintain the efficacy of vaccines. Refrigerators and freezers that allow doors to be left open after inventory has been accessed can also result in vaccines becoming damaged from temperature excursions. If inventory is rotated by hand at your practice, there is a greater chance that vaccines will expire or go unused, too.
Increased Non-Clinical Labor
One of your team members is likely responsible for vaccine inventory management. This role may involve many time-consuming manual tasks, such as:
Counting out doses

Rotating inventory by hand

Monitoring and logging temperature

Reporting and carrying out temperature excursion resolutions

Completing VFC reporting

Recording inventory loss

Correcting billing errors

Reordering vaccines

Restocking

vaccine storage
All these hours combined can cost $10,000 to $25,000 annually. That's without counting the missed opportunity costs of $1,000 to $3,000 from having a valuable member of staff tied up in manual processes.
Missed Billings from a Lack of Documentation
A lack of documentation combined with manual processes can lead to miscounts, selection errors, and inventory stock-outs. If this happens, your practice cannot provide the correct vaccines to your patients when they need them. 
Any immunization that your patient does receive also needs to be documented in a timely and accurate manner so that it is not forgotten or recorded incorrectly. When documentation is missing or incorrect, your practice will not be able to recoup the costs from patient visits, adding to your existing vaccine costs. 
In the end, the potential sum of vaccine costs can easily add up to hundreds of thousands of dollars each year, and a significant part of that comes from poor vaccine storage. If vaccine inventory management isn't up to par at your practice, you're not only at risk of administering ineffective vaccines to your patients — you're also impacting the success of the business.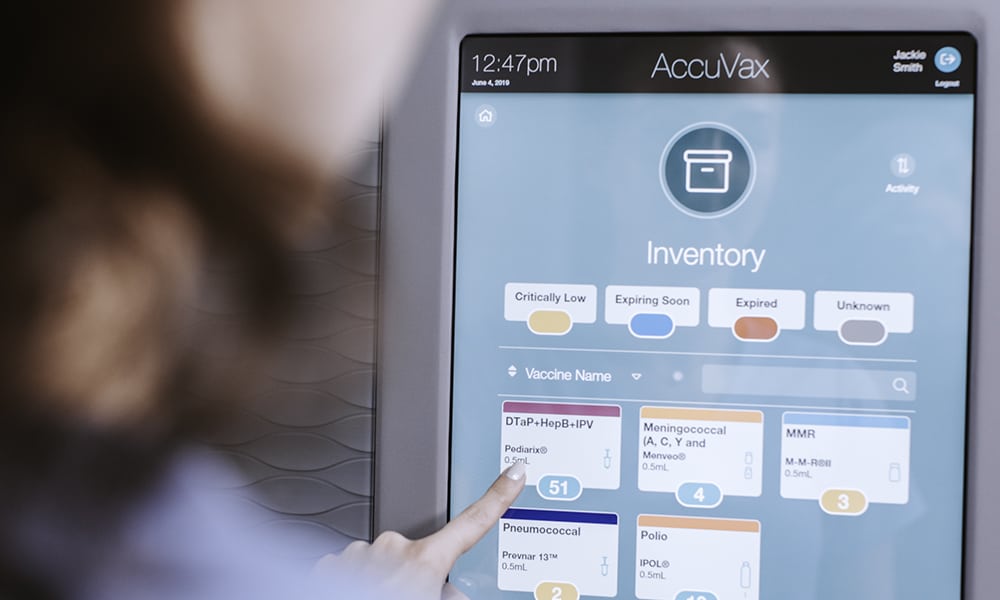 How You Can Save on Your Total Vaccine Costs — and Increase Safety
Reduce Vaccine Purchasing Costs
When purchasing vaccines, make sure you know what you need to avoid over-ordering and wasting valuable money and medication. You can refer to an immunization schedule to figure out how many vaccines you should buy to treat all your patients. You should also keep a close watch on your vaccine inventory management and ensure you have enough vaccine storage space for your order.
By utilizing inventory analytics, you have a better understanding of your vaccine usage, the days on hand remaining, and seasonality. This can help you order vaccines at the right time and in the right quantities. A tool like the AccuSite Portal by the AccuVax Vaccine Management System provides these analytics and also suggests order quantities for you. What's more, if you use AccuVax as your reordering service, you can save extra time on non-clinical efforts to ensure your inventory costs are optimized.
To get the best prices for your vaccines, you can also consider using purchasing groups, which often give you the most value for your money. If you order directly from manufacturers you may be able to take advantage of lower vaccine costs by paying promptly, online, or by credit card.
Use a Suitable Device for
Vaccine Storage
and
Vaccine Inventory Management
Once you've purchased and received your inventory, the best way to lower your vaccine costs is to store and manage your vaccines properly. 
AccuVax ensures a more efficient vaccine storage and inventory management process. The all-in-one system includes refrigerator and freezer technology, a door-less design, and guaranteed temperature monitoring, so your practice won't lose expensive vaccines to temperature excursion events. The built-in battery backup also maintains vaccine integrity for 15 hours in the event that your practice experiences a power outage or the system is accidentally unplugged.
Your practice staff can also spend more time on clinical labor, thanks to the automated workflows. AccuVax automatically rotates vaccines by their expiry dates, provides real-time dose levels, and notifies your team when inventory is low or nearing expiry dates. The system continually updates documentation so you know which vaccines are being issued to which patient and can easily recoup the vaccine costs. It's a safer, easier, and much more efficient way to keep your vaccine costs down, so you can make sure your practice covers overhead.
Discover the true vaccine costs at your practice and find out how AccuVax can reduce them with our online calculator.