With schools reopening for in-person learning this year, pediatric vaccines are key to children's safety. Increased social interaction after over a year of stay-at-home orders could result in illnesses rapidly spreading through the classroom — especially since many children fell behind on their immunization schedules during the pandemic.
The best way to keep children safe for the return to school is to get them up-to-date on their pediatric vaccines. But with so many children needing vaccines for different diseases, your health practice may face a back-to-school immunization rush.
Read on to learn how you can prepare your pediatric vaccines to support all your young patients, safely, effectively, and efficiently.
1. Stock Enough Pediatric Vaccines for the Big Rush Back
Summer has always been the ideal time for children to get vaccinated, but this year there's even more pressure. Coronavirus (COVID-19) restrictions have eased, encouraging people to leave the home and make appointments, and the new school semester will take place in-person, making pediatric vaccines even more important.
Some states may require children to receive certain vaccines prior to the first day of school or childcare. Children may need to catch up on their immunizations if they fell behind over that last year and a half. The COVID-19 vaccine is now available to patients aged 12 and over and could be extended to younger children in the coming months.
Depending on the age of your patients, their schooling situation, and the state, you can prioritize different pediatric vaccines. However, the more immunity you can give to your young patients, the better. That means your practice needs to have enough pediatric vaccines on hand. Of course, with an increase in vaccination needs, there is more inventory to store. You need to make sure you have enough space for your pediatric vaccines, either in a large refrigerator or freezer, or across multiple units.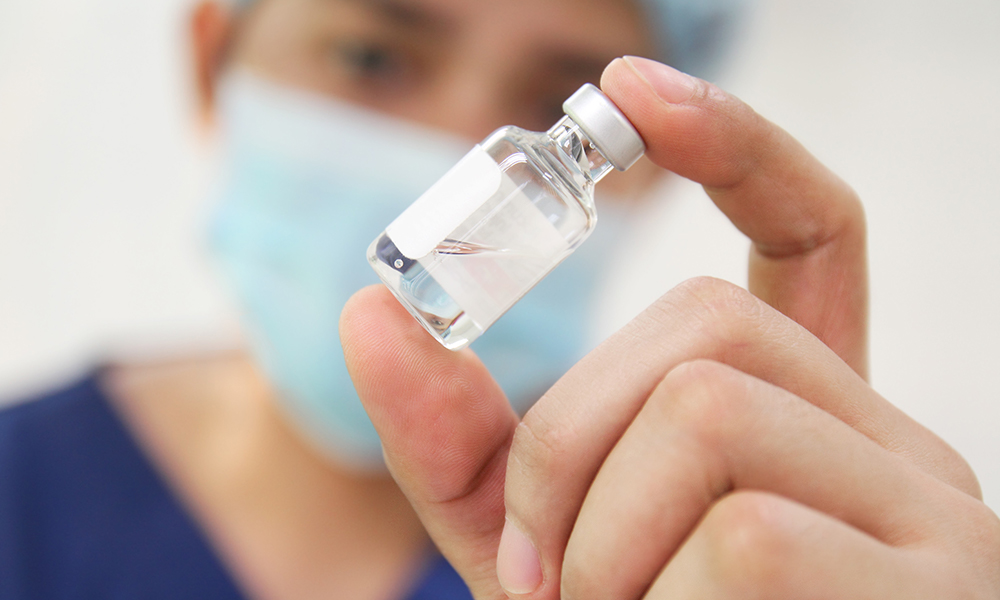 2. Track All Pediatric Vaccines to Every Patient
With more children set to receive multiple pediatric vaccines over the next few months, it's critical to accurately track each vaccine to each patient. This ensures the right vaccines and doses are given to the right patients at the right time.
Different pediatric vaccines are administered at different ages with different doses to provide the best immune response. Certain vaccines require a series of shots, which also helps to build immunity. With the complexity and variety in pediatric vaccines, following each vaccine's recommendations is essential for vaccine efficacy and children's safety.
You should check each patient's immunization records to make sure they have completed and are up-to-date on all immunizations for their age. It's also important to look at their health records to make sure they don't have allergies or underlying health concerns that may be impacted by any pediatric vaccines.
Commonly Administered Pediatric Vaccines by School Age
Before going to kindergarten, children should receive the following pediatric vaccines:
Measles, mumps, and rubella (MMR)
Diphtheria, tetanus, and whooping cough (DTaP)
Polio (IPV)
Varicella (chickenpox) (VAR and MMRV)
Influenza (FLU)
Before returning to middle or high school, children should receive the following pediatric vaccines:
Tetanus, diphtheria, and whooping cough (Tdap)
Meningitis and meningococcal (MenACWY or MCV4)
Human Papillomavirus (HPV)
Influenza
COVID-19 (for ages 12 and up)
Any missing pediatric vaccines from earlier childhood, such as Hepatitis A and B
3. Keep Pediatric Vaccines Safe and Effective
Storing a wide range and large quantity of inventory requires thorough documentation, careful organization, and manual coordination with your team. Not to mention, you need reliable vaccine storage units that will keep your pediatric vaccines at each of their required temperatures, so they're safe and effective when administered.
An open refrigerator door, a power outage, or an overlooked expiration date can damage your inventory. If you don't realize in time, you might administer the wrong or an ineffective pediatric vaccine. If you do catch this kind of problem, you will have to dispose of inventory and offer fewer immunization opportunities at your practice. Neither of these outcomes allows you to support your young patients as they prepare to return to school.
Using a Pediatric Vaccine Management System
A vaccine inventory management system can store pediatric vaccines safely and efficiently, so you can focus your time and attention on the back to school rush.
Store More Vaccines at Different Temperatures
The AccuVax Vaccine Management System guarantees correct temperature control for all your pediatric vaccines within the same unit. No matter how different the vaccine temperature requirements, whether refrigerated or frozen, AccuVax will store every vaccine at their optimal temperature and monitor them 24/7 for safe and effective use. That means you don't need to house multiple units in your practice or spend time arranging inventory into the most efficient parts of the refrigerator.
In fact, you never have to manually count out and organize individual doses. AccuVax keeps track of your pediatric vaccines in real time and notifies you when your inventory is running low. This helps you keep accurate records at your practice and stay ahead of the back to school rush.
If you're happy with your existing cold storage device, you can still ensure safer pediatric vaccine storage. The AccuShelf Inventory Management System provides integration with digital data loggers to monitor your inventory and alert you if it falls out of the correct temperature range.
Streamline Safety Checks and Vaccination Data
AccuShelf captures the lot, expiry, and dose of every pediatric vaccine through a wireless scanner. Thanks to automatic tracking and simplified workflows, you can keep track of all your vaccines, including lot, expiration, and dose counts.
AccuVax also performs checks to maximize patient safety and minimize risk when it's time to administer a pediatric vaccine. The system will not allow you to take out a vaccine that isn't safe for the patient's age or immunization program and clearly explains the problem on the user interface. During a busy vaccination season, this helps you prevent any confusion or mistakes.
With cloud-based reports and complete vaccination data, you can keep accurate records and follow the recommended guidelines for immunizations more easily. All TruMed products meet or exceed VFC compliance requirements, making them the ideal pediatric vaccine storage devices.
Minimize Pediatric Vaccine Loss
You can have all the space, temperature control, and safety checks, but what happens if there's a temperature excursion event? With a door-less design and a built-in battery pack, AccuVax ensures you never accidentally leave the refrigerator door open or lose your inventory to a power outage. Your pediatric vaccines are safe for up to 15 hours after the power goes down.
Having a large storage device can also make it more difficult to manually rotate vials by expiration date. AccuVax automatically rotates your inventory for you and notifies you if any vials are nearing expiration. That means you use your pediatric vaccines in the right order, while they're still safe and effective, without having to spend the time organizing them by hand. This helps prevent the wasted time and resources that can cost your practice at such an important time.
You can learn more about safe and effective vaccine storage in our guidelines here.